Hassi has been a dear member of our spiritual family.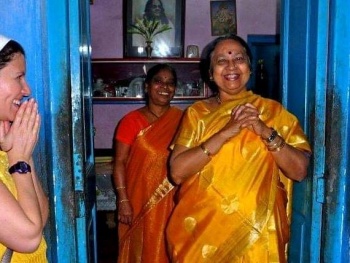 After a briefperiod of illness, she left her body peacefully on the 27th of August 2019 in her Kolkata home. Her day of passing coincides with the Mahasamadhi of Anandamoyee Ma. We fondly remember Hassi, and the divine friendship that she shared with all whom she met. Her son Manash shared some stories from her life which I would like to share with you all, with his permission.
Blessed Early Years
Hassi, true to her name, brought joy and laughter to all around her. The youngest daughter of Tulsi Bose (the boyhood friend of Yogananda), was blessed by Yogananda right from when she was in her mother's womb. Master (Yogananda) predicted that she would be very devoted to God. He gave Martan Ma (Hassi's mother) an apple and said "for the baby," in her womb. Hassi's marriage to Devi Mukherjee, was also predicted by Anandamoyee
Ma who described her to Devi as a devotee belonging to the spiritual family of Yogananda.
You have probably read the story of Master and his friend Tulsi's first meeting, where Master defeated Tulsi in a running challenge twice in a row. Master's fervent prayers for a devoted friend with a quiet home was answered that day and he would often meditate at the home of Tulsi with other friends and saints and even stayed there on subsequent visits. The home has been visited by many saints including Sri Yukteshwarji, Anandamoyee Ma, Balaram Bose, Swami Vivekananda and several others. Hassi inherited this home and lived there for most of her life with her husband Devi and son Manash. A pilgrimage to Kolkota (Master's city) is rather incomplete without a visit to this home. There in the meditation room Master and Tulsi Bose would meditate for hours and were sometimes seen levitating when others opened the door. The home has a number of relics including the trident from Babaji, Sri Yukteshwaji's bowl, Anandamoyee Ma's shawl to name a few. Pilgrims from America, Italy and all over the world visit this powerful shrine where saints meditated.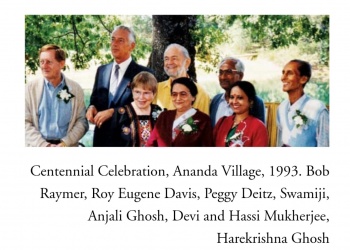 Hassi had a blessed childhood with Tulsi Bose and Martan Ma being loving parents. When Master would call Tulsi from America, he would ask to speak to Hassi. She would listen intently to his voice as a little girl. Master would ask her what should he send her from America and her standard response would be "Chocolates." Master would send chocolates for her with visiting pilgrims. She saw many saints from a very young age; attended satsangs and spend time in ashrams near by with several of Master's direct disciples including Swami Kriyananda, Daya Mata, Roy Eugene and several others. Her way of learning and attuning was 'shruti' – hearing stories and satsangs, says her son Manash. She expressed her devotion through chanting. Her favourite chant was "Hay Hari Sundara"(O God Beautiful). She started her sadhana with this chant and sang for a long time. She felt the song gave her the right bhav and connection with the Guru for her spiritual practise. Hassi's sadhana was one of great devotion and honoured the purity and tradition of the teachings of Kriya Yoga.
Her favorite story of Lahiri Mahasaya
Hassi was a devout follower of Lahiri Mahasaya and referred to him as Lahiri Baba. Her intimacy with Lahiri Mahasaya was like that of a father and daughter. She loved to listen to his stories and drew great strength, in the challenging moments of her life, by remembering and reciting his stories. She turned to him in prayer in moments of joy and suffering.
Her favourite story of Lahiri Mahasaya was the meeting of Lahiriji with Trailangaswamy. Lahiri Mahasaya was walking back from a dip in the Ganges and in front of him was Trailangaswamy with a band of disciples. Recognising LahiriMahasaya, Trailangaswamy with great love and devotion , touched his feet and offered pronam. Seeing this, Trailangaswami's disciples said to him , "you are such as great swami, why do you touch this man's feet?" Trailangaswamy said to them, he is Shiva, it is Shiva whom we seek. This man has already become Shiva. The disciples realised the spiritual greatness of Lahiri Mahasaya in that moment and hung their heads in shame.
Divine Friendships
Hassi's entire life has been one of living for God, in the company of saints who visited and meditated at her home. She hosted them with an open heart, cooked for them and listened to their stories of devotion. She was a divine friend to the visitors and serving them with recipes that Master loved was her way of expressing divine friendship.
Swami Kriyananda was a dear friend to her family and he would speak to her in pure Bengali. "Their love for Guru was so high that no matter whatever was the starting point of their conversations, they would always end up with talking about their Guru and his teachings," says her son Manash who witnessed many of these satsangs. They would often get together over meals, discuss at length, the Guru's favourite vegetable, sweets , recipes, teachings, conversations and more. Their lives revolved around the Guru who was their centre.
Later Years
After her husband Devi's passing, Hassi started to spend some months with Manash and his wife Mau in Hyderabad, and later in Chennai. But she would always come back home for Durga Pooja and spend some months at home. Manash took loving care of her and would pick and drop her home as per her wishes.
Hassi was very particular with Manash on his spiritual practices. She would occasionally review his practices and give him feedback. She would often say to him, it is not just about doing your Kriyas, it is about what you achieve after Kriyas, the higher consciousness. At a very young age, Manash was initiated into Kriya Yoga by his grandfather Tulsi Bose. After his Upanayanam (thread ceremony) he was formally initiated into Kriya. By then mother had created a fertile environment in me by her example, inspirational stories and devotion, reminisces Manash on his upbringing by Hassi.
As the years passed by, Hassi then expressed her wish to not leave their home in Kolkota. In the last three years of her life she stayed there. She started to fast extensively from 2017 and lost a lot of weight. Manash tried everything he could to persuade her to eat beyond the two to three spoons of rice she was having. He sometimes had to feed her a meal of only chocolates or ice cream to which she showed a mild bias. She was diagnosed with Parkinson's disease and later had a bad fall which caused a head injury. Hassi became quieter and quieter as days passed by. She was preparing herself to leave this world. Earlier she would call Manash everyday and talk to him for long, but in the later months she would speak to him lovingly only when he called her. She would say to him that he call her only when convenient and not to make too much of efforts to call her in the midst of his busy life.
In some ways Hassi was preparing him for her departure. In February this year, she suffered a cerebral stroke and after that she hardly spoke to anyone. She would just smile. In the last years of her life, Guru burnt all her karmas, reflects Manash. A day before her passing, she went completely quiet and eyes closed all day, yet in full awareness. At 4.30 Am on 27thth August 2019, she left her body.
I have had a chance to meet Hassi Ma,a few times and felt deep love and joy in her presence. The last time I met here was in June in Kolkota this year. She was bedridden, very quiet and smiling. While I could feel her physical struggles, her face was shining bright with a light from within. She had a withdrawn look and a distant gaze in her eyes. A deep sense of joy pervaded her, despite the physical suffering. She seemed to be enjoying another world already, bathed in bliss.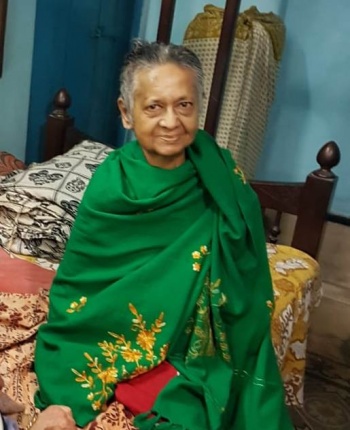 Farewell Hassi Ma, our loving pronams to you.
Grateful for the loving mother you have been to us all and for being a channel of Master's love for us. You are a shining example of a devotee to us all.