Annual Giving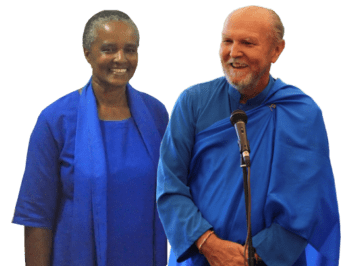 Dear Friends,
In October, I celebrate the fiftieth anniversary of my first meeting with Swami Kriyananda. It was at the entrance of a venue in Berkeley, California, where he was about to begin a class on the topics of hatha yoga and raja yoga. I saw him approaching from a distance, dressed in an orange dhoti and carrying a harmonium, not a common sight in those days.
Once he was inside, I introduced myself and said, "I want to learn Kriya Yoga." After a moment's pause, he replied, "First, I need to get to know you better."
I soon began attending a weekly satsang at Swamiji's flat in San Francisco. He often spoke of a piece of property he had purchased in the Sierra Nevada Mountains and of his hopes for someday building a hermitage there for aspiring yogis. It would be called "Ananda". I was thrilled by the prospect and noticing my enthusiasm, he asked, "Would you be willing to help me?" Without hesitation, I replied, "Yes, I will," and with that simple answer, my entire lifechanged.
This year is the 125th anniversary of the birth of Paramhansa Yogananda and the 15th anniversary of Ananda Sangha's founding in India. In celebration, Nayaswami Dhyana and I invite you to join us in Guru Seva. We ask you the same question that Swami Kriyananda once posed to me,
"Would you be willing to help?"
In divine friendship,
Nayaswami Jaya and Nayaswami Dhayana
Spiritual Directors, Ananda Sangha India
Your Donation Is Tax-Deductible
Donations to Ananda Sangha are eligible for 50% tax exemption under section 80G of the IT Act, 1961
YOUR DONATIONS WILL SUPPORT
MADE POSSIBLE BY YOU
New centers in Mumbai & Ahmedabad

The Answer Movie Release in India

Autobiography of a Yogi Published in Punjabi

Ananda Monastary Hermitage in Khandala

New Look Ananda India
Testimonials
"I was in financial stress at the time I started to donate. So I started with donating a small amount monthly. The benefit which I felt was an increase in dependence on God and Gurus and less dependence on money. Surprisingly, very soon even my earning increased and I was able to share more." – R.R., Mumbai
we can do in this world is uplift our own consciousness, while also helping others on their journey. Regular donations are a way for me to act as a channel for my Guru to help spread these blessings. And wonderfully, these regular offerings are silently removing the barrier in my mind of holding on to money as a source of security."
– A.T., Mumbai