A Spiritual Celebration
For a very long time, taking a pilgrimage to the Himalayas has been a cherished dream.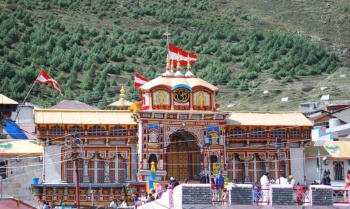 My idling wish materialized at a crucial point in life when I needed it most. This journey reshaped me in many ways and was a divine celebration of my spiritual journey. The Himalayas have been the abode of sages, saints and Gods since time immemorial. The Ganga is of great spiritual significance, known to cleanse those seeking spiritual ascension and redemption, freeing them of their sins across lifetimes. Proximity to the Himalayas and Ganga leaves you energised and infused with newfound potential. Grace flows through you and shapes you.
We were a diverse group of twenty-seven pilgrims, hailing from different nationalities. When you set out on a trip with seekers united by their spirituality, yet unfamiliar to each other, it makes the experience vastly more joyful. A band of spiritual travelers coming from far and wide, bound for Devbhoomi (The Land of the Gods). The Ananda Pilgrimage team of Keshava, Hari, Mantradevi and Krishnadas along with Mahavir (our experienced guide) took great care of each step of the journey and made it  a memorable and flawless pilgrimage.
Excess Baggage– A surreal turn of events
On the designated day, after my family gave me a loving send-off as I set out, I ran into some trouble. At the baggage check-in, my fears came to pass. My well-stocked suitcase was clocking a number way above the permitted weight by a healthy margin. The airline executive informed me that I would have to pay for the additional weight.  In my trivial hour of need, I shot off some prayers. Looking back, it wasn't the wisest of decisions, calling on the vast powers of the Masters to coast through baggage check-in. I began to feel like I should pay in the spirit of my holy pilgrimage and began to reach for my wallet. In a surreal turn of events, she cleared me to go without paying additional overheads. I began to insist that I would pay, but she was adamant that I go as it was a pilgrimage to Badrinath. She even went on to ask for a picture together. I ended up featuring in photos with several airport staff. They were kind enough to send me on my way without having to pay a rupee, and with a good-luck card to boot! It is also a lesson in packing smart, a test of willingness to pay and the response – even petty prayers from a disorganized pilgrim are heard and actioned.
Lighting lamps in the Ganga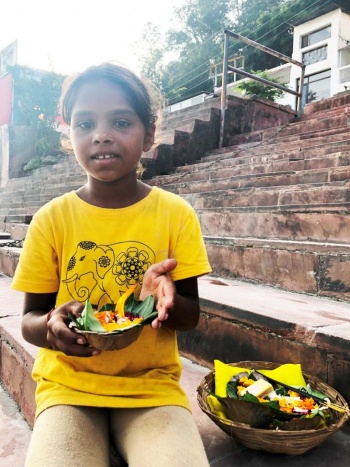 Our first stop was Rishikesh, popularly known as the Yoga Capital of India. This ancient town, bathed by the Ganga and purified by the sadhana of great rishis has the deep holy vibrations of an ancient, sacred place. Caves, Ashrams and meditative homes of ancient yogis adorn her and remind you of bygone times. Children can be spotted selling flowers and diyas to offer at the Ganga. One can't help but feel uplifted as they light and float a diya in offering to Mother Ganga, attracting an instant blessing. Sitting by the banks of the Ganga, you feel that as she flows through time and tide, waiting for none, she heals everyone. The evening artis and the morning shlokas reverberate through the atmosphere, filling it with blessings and cleansing vibrations that uplift those present. Har Hare Gange!
Neelkanth – The Blue Throated Divine (Lord Shiva)
Not far from Rishikesh, a few kilometres into the dense jungle you can still visit a few places untouched by time and modernisation. One such place is the Neelkanth temple dedicated to Lord Shiva, in Pauri Garhwal.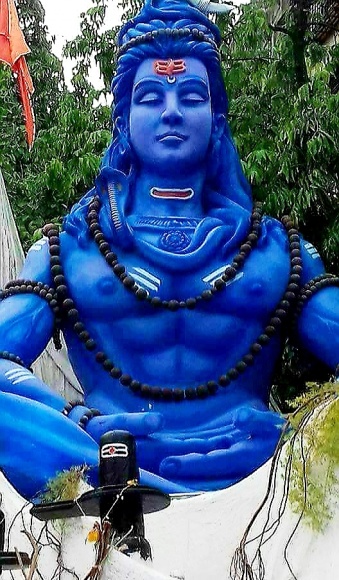 When the Devas and Asuras performed the Samudra Manthan (churning of the ocean for divine nectar), plenty emerged from the sea. One of it was Halahal (potent poison). Shiva drank it all. As a result of housing the poison in his throat, his throat turned blue, and was called Neelkanth or 'blue-throated one. '
According to locals, over three million visitors had come to the temple in the previous month. These pilgrims were known as Kawarias, who came during Shravan Shivratri (Night of Shiva) for darshan. The other main festival at this temple is MahaShivratri, which takes place in either February or March, depending on the Lunar Calendar. We went early in the morning and had darshan without any hassle. It is customary to offer coconut, honey, fruits, bael leaves, flowers, milk and water to Lord Shiva. Devotees' faith and love for Neelkanth make the place an abode for Shiva. There is a temple dedicated to Ma Bhuvaneshwari as well. She is a Shivshakti goddess and consort of Shiva. This beautiful temple is located on a hilltop where you can catch a view of the entire town of Rishikesh. Legend has it that Bhuvaneshwari performed great austerities for Shiva, leaving the site charged with Divine Shakti from her blessings and grace. She is worshiped as the creator, protector and queen of the universes. Her worship is carried out by dressing her, braiding her hair, applying makeup, offering lotus garlands, and singing and dancing.
Jhilmil Gufa (Sparkling Cave of Baba Gorakhnath)
Up another hill, we came across JhilmilGufa(Sparkling Cave). JhilmilGhufa is the cave where sadhus from the Nath Sampradaya (lineage) live and meditate for centuries. Baba Gorakhnath, the rishi with many siddhis and higher knowledge lived and meditated within these walls for many years. The cave has an open roof in one place, through which the sunlight comes into the gufa. The cave is peaceful and uplifting. A small statue of Baba Gorakhnath resides there, among murtis of Shiva and other deities. It was easy to meditate there, amidst the peace of the mountain, powered by the sidhis of Baba Goraknath. I prayed for grace to perfect one of my spiritual techniques. It happened instantaneously. Bolstered by the power of the place, I was able to both perfect the technique I had been attempting for years and hold it for a long time. A sense of stillness and depth left me immersed in bliss.
Secret Ingredient of a delicious meal – Bhav of Seva
On finishing our meditation, we were offered tea by the sadhus. It was the most magical chai (tea) I have had. I have an affinity for collecting recipes, even though I rarely spend time cooking. I asked the sadhu for his recipe. He told me that he used lemongrass leaves and some mountain herbs in his brew. He also revealed that the tea had gur (jaggery) from over ten years ago!  The sadhus' hospitality did not end there; they served us a meal. The meal consisted of khichadi, chaach (buttermilk), lightly cooked pumpkin and a laddu. It was the most sumptuous meal I had eaten in a very long time, and it nourished me on many different levels. Cooked on a natural fire that burnt throughout the days and nights. Something shifted in me as I spoke to the cook about how he cooked the meal. Cooking and feeding visitors was a seva that held special meaning for him. In my rushed life, I often view cooking as a chore. It is something to be finished off as soon as humanly possible. I resolved to cook simple meals with love, time and dedication. I now know the secret ingredient behind the magic of good food- cooking with love and gratitude. We lingered for a while longer at the sadhus' before heading off to the Ganesh gufa (cave). The statue there is a Swayambhu, a natural manifestation of Ganesh in a stone. Ganesha is the remover of all obstacles, and his darshan at the temple was a perfect end to an inspiring afternoon.
Devprayag – Purifying dip in the Ganga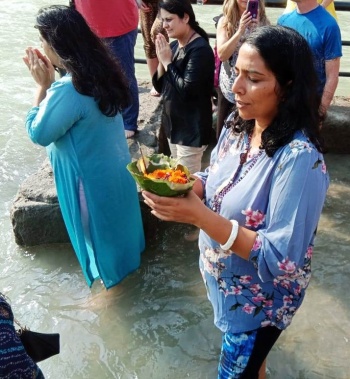 From Rishikesh, we traveled via bus to Badrinath for two days. The roads leading to the holy city are "narrow and steep", often prone to obstacles and delays. We had plenty of chanting and storytelling to keep everyone uplifted and energetic. The Sangams or confluence of rivers are places of spiritual significance. We stopped at Devprayag – where Alaknanda and Bhagirathi meet and become Ganga. There is a Raghunath temple in the vicinity. There are places where you can take a dip in the Ganga and wash away sins from your current, plus seven other lifetimes. Most of us took dips in the Ganga and sought purification from her. We made a small offering to Gange, chanting mantras and invoking prayers. Though a ritualistic practice, it was possible to add devotion and intention, make our actions a spiritual cleansing of long-held guilt and burdens.
The Skanda Purana has a saying: "There are many sacred shrines in heaven, on earth, and in hell; but there is no shrine like Badrinath."
With every step, our anticipation of being in the holy land of Badrinath grew exponentially. The people there are friendly and soft-spoken. The hotels and ashrams are full to the brim with devotees from far and wide. Helicopters swoop in and out, transporting people coming in for express darshans of the four dhams (a quick meeting with God). The Himalayas surrounded the temple, and dotted with snow-laden peaks, they added to the natural beauty of the holy centre that is Badrinath. Spiritual history and stories are everywhere in Badrinath. The Alaknanda could be heard gurgling "Hara Hara" in our vicinity. Sadhus and pilgrims chanted and prayed on every street, nook and corner, performing ancient rituals and ceremonies. Steam rose from the Tapt kund – a hot spring filled with medicinal, healing waters and the promise of attracting blessings and purification. The ancient story tells of Agnidev himself blessing and purifying those who take a dip in the kund.
Deities at Badrinath Temple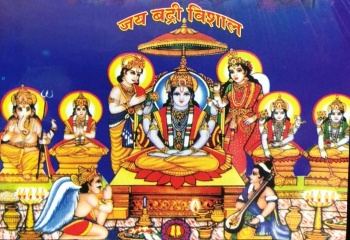 Adi Shankaracharya discovered the statue of Badrinarayan while in deep meditation. He located the murti from his meditation in the Naradkund and proceeded to build a temple for Badrinarayan. The figure is made of ShaligramShila, has four limbs, and wears a crown inlaid with precious jewels. A beautiful necklace and a sandalwood bindi adorn the murti's forehead. Seeing God decorated and served with such care inspires Bhakti (devotion) in pilgrims. The devotees worship this form in warmer months. The Gods worship him in meditation during the six winter months between November to May, when the murti is worshipped at Joshimath, and the Badrinath temple is closed. Next to Badrinarayan on the alter is Kuber, the God of wealth. Seated below is Narad with a Veena. A statue of Udhava, Nar and Narayan stand nearby. Figures of Bhoodevi and Sridevi, two of the four wives of Bhagwan, are also present. Poojas are performed with japa of shlokas and mantras. On the sanctum of the temple is written, in gold, the mantra "Aum Namo Bhagwate Vasudevaaya."
There are several smaller temples for Lakshmi, Hanumaan, Ganesha, Karn, Shankaracharya, among others, in the area as well. The temple is beautiful, colorful and divinely seated on the lap of Nar and Narayan mountains. The current structure was reinforced and renovated by the kings of Garhwal roughly two centuries ago. Pilgrims come from all over for the darshan of Badrinarayan with prayers, sorrows, worries, prasad, flowers, decorated thalis with sandalwood paste, with garlands of tulsi, flowers, and more. Some bring silk clothes with exquisite embroidery for the murtis to wear. The 4:30 A.M. Nirmalyam Darshan is a beautiful ceremony to watch, where the deities are bathed in Ganga jal (water from the Ganga), Panchamrut( five nectars – Milk, Yogurt, Ghee, Honey and liquid jaggery) and Itra (perfume) followed by Shringar. People offer garlands, and the Lord's murti is covered in sandalwood paste (to absorb the heat of his sadhana) and then decorated with ornaments and silk. An elaborate aarathi is performed and shared with all present.
Vyasa and Ganesha scripted the Mahabaharat here
Nearby is the village of Mana, the last Indian village on the banks of Saraswati. Here, you can find Vyasa's cave, where he sat and composed the Mahabharata, the Vedas and Puranas. Ganesha was his scribe for the Mahabharata, and Vyasa had a condition that as he dictated the Mahabharata, Ganesha should write it on palm leaves without as much as a single pause. According to legend, Vyasa's dictation and narration were so long that Ganesha ran out of peacock feathers to write. He then proceeded to break off his tusk and kept writing with it, so that he could keep his promise to Vyasa. It is thus that Ganesha became "Ekdantha" or one tusked deity. Vyasa's sanctum has a unique texture, resembling a stack of palm leaves from the outside.
Stairway to Heaven
One can see the Bhimpul (bridge of Bhima), made from a large boulder by Bhima so that Draupadi and the Pandavas could cross the Saraswati safely. It is a magical sight to witness the rainbow form, as sunlight flows into the flowing waterfall. Beyond lies a beautiful trek to the "Stairway to Heaven." The stairway is the trail where the Pandavas, Draupadi and Dharma (the dog), left the world. After reaching Himavana and continuing their journey, legend has it that the Pandavas left their bodies one by one, until Yudhisthira and the dog were the only ones left. It was then that Indira came to welcome Yudhisthira to the heavens. The closing act of the Pandava's time on earth is a story that holds much significance. It is a rather long trek, and true to its title of "Stairway to Heaven". Surrounded by mountains, it is otherworldly in many ways.
Meeting Sadhus (A life in God)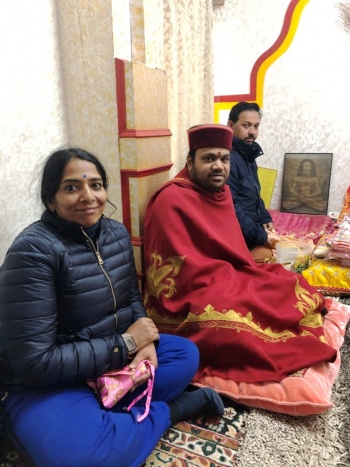 We met a few sadhus and sages who shared their wisdom, practices and joy with us. Hanuman Sadhu, who lives an austere life in a cave in the mountains, performed a pooja and tied a Raksha sutra for each of us and narrated stories about the Gods. Swami Swaroopananda, from the Adi Shankaracharya lineage, was full of joy and laughter. He shared the philosophy of how God was not separate from us and how one can reach the light by casting away the delusion of separateness. I met HH Eashwara Namboodhiri, the head priest at Badrinath who offers pooja at the shrine everyday. He effortlessly had mundane every day conversations with me in Malayalam at his home, amidst scriptural explanations.. His humility and brilliance shine through in the simple explanations he shares.
Traversing Devbhoomi
The end of our pilgrimage was upon us. The experience of traversing Devbhumi was charged with blessings. The experience of visiting Badrinath was, and will always will be, soulful and uplifting. I stepped back into my daily life purified and bathed in blessings and grace. Time stopped as entire lifetimes were cleansed of worldly lapses in divine duties. Uplifted into higher consciousness with ardent prayers, handfuls of prasad, and a resolve to live a life of devotion and seva to God and Gurus, we left Badrinath ready to face the world, albeit reluctantly.
Visiting places of spiritual vibrations ignite one's passion for seeking God and resets some of our faultier rhythms. It creates space and time for the divine in our lives, awakening memories of our potential and uplifting our consciousness. Chanting, Satsangs, Sadhana, Seva, and holy vibrations from places of worship uplift us and hasten evolution in Samsara (cycle of worldly life and death).
'Thy doors are open wide to welcome
God's true sons from every corner of the earth,
Where Ganges, woods, Himalayan caves, and men dream God. I am hallowed; my body touched that sod!'
– Whispers from Eternity: My India, Paramhansa Yogananda