Featured Video: Living Wisely Living Well

with Nayaswamis Jaya & Sadhana Devi: "Accepting People As They Are"
News of Nayaswamis Jyotish & Devi
Nayaswamis Jyotish and Devi Will be back in India in September!

Nayaswami Jyotish & Devi will stay in their home in Gurgaon and travel to Ananda Meditation Centres in Delhi, Noida, Mumbai, and Pune. They are looking forward to seeing everyone. View their schedule of public events and webinars! Their first talk is scheduled for 10 September in Gurgaon. They will also be giving Tuesday webinars. Stay tuned for detailed schedules of their local talks as well as all India online live broadcasts.
Online with Ananda India: Free Inspirational Talks and More!
Wednesday Evenings: Living Wisely, Living Well with Nayaswamis Jyotish & Devi, Nayaswami Jaya & Nayaswami Dhyana alternating. Also, daily inspirational classes are offered.
Upcoming Living Wisely, Living Well broadcasts:
Wednesdays 7:30-8:30pm
10 June:"Honor Your Commitments" with Nayaswami Dhyana
17 June: "Live in Omnipresence" with Nayaswamis Jyotish and Devi
24 June:"Live in the Moment" with Nayaswami Dhyana
Also offered: Bhagavad Gita classes with Nayaswamis Jaya & Devarshi, Raja Yoga classes, Guided Daily Sadhanas & more! Visit the online classes website for more details on how to view all the classes.
"In Joy We Live" Blog Post from Nayswami Dhyana
Read: "Seclusion—The Price of Greatness" by Nayaswami Dhyana


Living in a big city like Gurgaon and Delhi at times makes one long for quiet silence away from the packs of barking dogs, sirens in the night, loud wedding music, overcrowded cities and heavy traffic push you to go inside and recharge your spiritual batteries. Due to this maddening noise you want to get lost in the tranquility of God. Seclusion is focused time alone in meditation and practice of the techniques, going into your inner self. Going away from the city, into the country or the mountains to fresh air, abundant forests, clean, flowing streams and rivers. One can imagine why the yogis head for the Himalayas.
Even more than being in a rejuvenating environment one needs inner cleansing, purification, rejuvenation, and recharging through longer meditation, energization, yoga postures, and devotional chanting. (read more of this post…)
This Week's "A Touch of Light" Blog Post from Nayaswamis Jyotish and Devi
Nayaswami Jyotish's article, "Joy is the Solution, Not the Reward"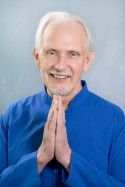 It was in the late summer of 1967 that I first visited the land that was to become Ananda. August is hot in the foothills of the Sierra Mountains of Northern California, and we had spent all day working hard. I was part of a little group of Swami Kriyananda's students who had come to help him build Ananda's first structure, a small geodesic dome that was to serve as a temple.
At that time, Ananda communities were only a future dream for Swami. In this first year, he was simply trying to create a forest retreat where people could get away from their busy lives to learn and practice the teachings of Paramhansa Yogananda…..(read more of this post and sign up to receive these…)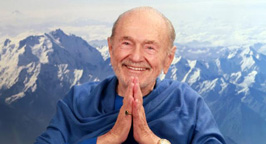 Swami Kriyananda In Memoriam
Watch videos commemorating the passing of Swami Kriyananda on 20 April, 2013.
Watch videos of Swamiji's talks
Website dedicated to Swamiji
SwamiKriyananda.org has many inspiring videos, photos, articles, and more posted in honour of Swamiji.
© 2003-2015 Ananda Sangha India
My "bottom line" for many years has been not money, profit, or outer success of any kind, but inner peace.
I've refused to allow myself to become so stressed as to sacrifice that true wealth.
I've even deemed it better — and experience has borne me out — to leave important things undone if my peace might be undermined by giving them attention.
For without it, I would be prone to err. From inner peace have come enlightened decisions. People's expectations of me can never equal what God Himself expects: my peace in the thought of Him.
From Living Wisely, Living Well By Swami Kriyananda