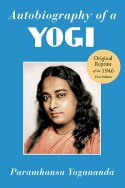 We are a spiritual organization based on the teaching of Paramhansa Yogananda, author of Autobiography of a Yogi. First published in 1946, Autobiography of a Yogi helped launch a spiritual revolution in the West. It has since sold 5 million copies and has been translated into at least 34 languages. Autobiography of a Yogi is not an ordinary book. It is a spiritual treasure. To read its message of hope to all truth seekers is to begin a great adventure. Start reading now online for free.
Spiritual Directors of Ananda Worldwide – Nayaswamis Jyotish & Devi in India !
Nayaswamis Jyotish & Devi are currently staying at their home in Gurgaon and will travel to Ananda Meditation Centres in Delhi, Noida, Mumbai, and Pune. Don't miss this wonderful opportunity to attend their talks and satsangs. View Complete Schedule
First Spiritual Renewal Weekend With Nayaswamis Jyotish & Devi in India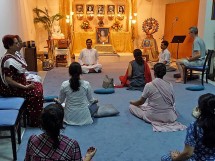 Join us 27-29 November at Ananda Gurgaon and Ananda Delhi (NCR). The weekend will feature discourses, meditations, kirtan, spiritual questions and answers, meditation classes, and wonderful satsang with devotees from all over India. Ananda India acharyas from cities throughout India will also be attending and giving classes. View complete schedule and register now. 
"Made in the Image of God—Overcoming Challenges" by Nayaswami Devarshi
A friend of mine was going through an extremely difficult series of tests, challenges and karma, when she had an interview with Swami Kriyanandaji. You might ask yourself the question, "If I were going through the most challenging period of my life, and had an interview with a saint, what would I ask him?". Read More
"The 1% Solution" by Nayaswami Jyotish
This morning Devi and I spoke with someone who was feeling overwhelmed and a little guilty because he couldn't keep up with all the "should do's" on the spiritual path. I doubt if there is a devotee alive who hasn't had these same thoughts. On the one hand, there are hundreds of techniques, habits, and attitudes that could be helpful. On the other hand, we have to face the reality of living in this world with multiple responsibilities and limited time. Read More
| | |
| --- | --- |
| Ananda Gurgaon devotee Vibha talks about why she meditates. | Our Healing Prayer Circle prays for those in need of healing of body, mind, and soul. Make a healing prayer request. |
© 2003-2015 Ananda Sangha India
Not a thought you think originates with you.
Paramhansa Yogananda, in Autobiography of a Yogi, wrote, "Thoughts are universally and not individually rooted."
Your most precious inspirations are not your own! You have merely caught a current of thought that was already flowing through the universe.
Thoughts, in turn, are only manifestations of divine consciousness. Therefore Yogananda said also, "I suffer when you have moods, for I see then that Satan has a hold of you."
Think, when negativity wells up within you, "Satan is trying to catch me!"
To rid yourself of such "possession," chant to God and raise your level of energy in the spine. Soon you will find positive thoughts and feelings fairly pouring into your mind.
From Living Wisely, Living Well By Swami Kriyananda