Living Wisely Living Well

with Nayaswamis Jyotish and Devi: "Magnetism"
Nayaswamis Jyotish & Devi's Talks are Online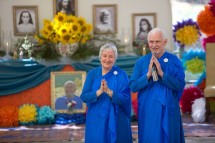 Nayaswamis Jyotish and Devi are back in the US but will return to India later in the year. Stay tuned for details.
VIDEOS AVAILABLE FROM NAYASWAMIS JYOTISH & DEVI'S TALKS AROUND INDIA:
Nayaswamis Jyotish and Devi gave talks in Gurgaon, Delhi, Mumbai, Pune, Bangalore & Chennai. View the complete set of videos from their talks. We look forward to their visit later in the year. To keep up to date on things, view their website. You can even ask a question!
Online with Ananda India: Free Inspirational Talks and More!
Wednesday Evenings: Living Wisely, Living Well with Nayaswamis Jyotish & Devi, Nayaswami Jaya & Nayaswami Dhyana alternating. Also, daily inspirational classes are offered.
Living Wisely Living Well Schedule:
22 Apr: Nayaswamis Jyotish and Devi, "Personal Magnetism"
29 Apr: Nayaswami Dhyana, "Supportive Friendship"
Also offered: Bhagavad Gita classes with Nayaswamis Jaya & Devarshi, Raja Yoga classes, Guided Daily Sadhanas & more! Visit the online classes website for more details on how to view all the classes.
"In Joy We Live" Blog Post from Nayswami Dhyana
Read two inspiring stories: "Choir Sings for Swamiji at Guru Kripa" and "A Lesson from Swamiji in Non-Attachment" by Nayaswami Dhyana


Swamiji was unwell and we had just given a concert of his music at our ashram in Gurgaon that he was to attend. Because Swamiji was so unwell and couldn't come, the choir went to his home, Guru Kripa to give a mini concert personally for him. Swamiji was carried down to the second floor landing of the stairs of Guru Kripa where he sat as we sang many of his beautiful songs.  By the end of the concert Swamiji was weeping and so was everyone else.  It was a very moving moment when we were able to sing for Swamiji there especially because he was so unwell. We had all felt the presence of God and the blessings of Swamiji's music. It was as if Divine Mother was in the room blessing all of us and Swamiji through the music.(read more of this post…)
This Week's "A Touch of Light" Blogpost from Nayaswamis Jyotish and Devi
Nayaswami Jyotish's article, "Preparing for Life's Storms"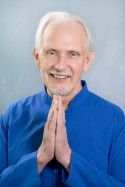 We have been reading a very interesting book: Being Mortal, by Atul Gawande. It's a thoughtful, well-written examination of aging and dying, subjects often ignored in modern society. Someday, perhaps, I will write a blog about that, but not today. This blog is about a small part of the process—about how helpful it is to prepare for difficulties before a crisis comes. For preparation makes a huge difference. How, then, can we prepare spiritually for life's storms?
We all have tests in life that are difficult, sometimes catastrophic. Over the years we have had the chance to see many people handle these trials, some with strength and grace, and others with hurt or bitterness. Here are some factors that make all the difference….(read more of this post and sign up to receive these…)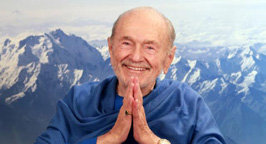 Swami Kriyananda In Memoriam
Watch videos commemorating the passing of Swami Kriyananda on 20 April, 2013.
Watch videos of Swamiji's talks
Website dedicated to Swamiji
SwamiKriyananda.org has many inspiring videos, photos, articles, and more posted in honour of Swamiji.
© 2003-2015 Ananda Sangha India