This year, for us, can be most aptly described as the year of "My Heart Remembers Swami Kriyananda."
When Swamiji asked me, towards the end of his life, to write a book about my time with him, it felt like a "mission impossible." But he had planted a seed in my consciousness, and sooner or later it had to bear fruit; It was just a matter of time. I had thought it would be years before I felt qualified enough to understand even ONE lesson fully, let alone explain it to others in a book. And that too in English, a language that is not my own!
It has taken me 4 years to align myself to that request, and to feel Swami's inner guidance to make that request a reality.
This book has had an incredible inner and outer impact in Shurjo's and my life. To me, this process has brought Swami's living presence back into our lives, in a way that I hadn't felt since his passing. Words were just given to me. I could feel Swami showing me the stories that needed to be shared, guiding their very expression.
The book publishing process could be a whole story in itself. Shurjo and I have never published anything before, nor did we have the faintest idea of where to start, nor even the money to pay for it. The day after our arrival to India, in October 2017, we asked a friend for a loan, contacted a printer, and managed to print 1500 copies in less than a month!
Knowing how much energy Swami put out to share and talk about every book he wrote, we knew the amount of energy it would take if we were to follow in his footsteps. Or at least, to try! Once the book was printed we felt: "Let the book be our guide."
We travelled through India for the following five months, sharing the energy of this book as much as we could. Our 'book tour' took us to nine Ananda centers, spending roughly a week in each city. Our greatest joy was being able to stay with devotees in each city and spend time with them and their families. One time, we stayed in 4 different houses in one week in the same city. It was an incredible, bonding experience. All of us were part of the same one flow of "our hearts remembering Swami Kriyananda."
Without a home of our own, we lived out of our 20 kg suitcases. It wasn't easy, and at times it got really hectic, but there was a grace and joy that pervaded every aspect of it. Everywhere we went, and every person we met, felt like an extension of Swami's hidden guidance and support. Nothing felt random, everything seemed to be orchestrated, bringing us to the right place, at the right time.
The same pattern was repeated as we took the book beyond the borders of India, to our Ananda family in Italy and the U.S. Having done the math, we realized that we visited 31 cities in less than a year! Not quite like the movie 'Around the world in 80 days', but almost! 🙂
As people started reading the book, testimonials from around the world began flowing in. And they continue to do so until today.
This book fulfilled my hearts desire to know Swami Kriyananda closely. It's now my favorite book along with Autobiography of a Yogi and The New Path.
The book has filled me with so much love, hope and strength for the coming year. Inspiring and uplifting. Got transported into a new world. Became alive with the spirit of Swamiji.
This book is a beautiful gift to the world. Swami's presence can be felt so strongly in this book.
Before reading your book, I only understood Swami Kriyananda to be a direct disciple of Yogananda and founder of Ananda. This book has helped me to understand Swamiji the way I'd never imagined.
This book has touched me deeply. What a great saint Swami Kriyananda was. I won't even start with the amount of tears.    
For the first time I had a proper glimpse into Swamiji's life and works. I have no words to express my admiration for him.      
My own connection with Yogananda and Swami are deeper now because of reading this book. Thank you!
During our last two weeks in the U.S, I did the audio recording of the book in both English and Spanish, which soon will be available for anyone interested.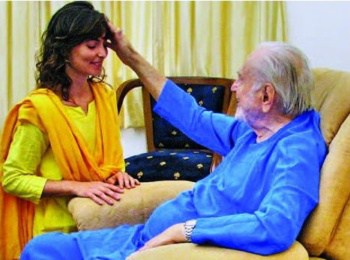 A few days ago, as this cycle of our lives comes to an end, Swamiji came into my dreams. He wanted to know how the book tour was going. I could feel his eagerness to hear about everything. As I began sharing with him, tears of joy streamed down my face. I told him how much people have enjoyed the book, and how much more they now felt close to him. He listened attentively to every word. Every now and then, with a radiant smile, he would interject: "I'm so happy! I am so happy! Tell me more!" When I finished, he placed his hand on my head. I knew it was a blessing. Just then I woke up.
When I opened my eyes, his presence could still be felt.
This dream left me with two thoughts:
Firstly, how actively involved Swamiji is in everything we do in his, or Master's name. He is part of our team. He is the one who puts the thoughts in our minds, and then creates the right circumstances for that thought to blossom. All the while walking with us, holding our hand, until the job is done.
Secondly, his blessing wasn't so much for what the book did for the work, for him or for Master. It was for the overcoming of fear and ego-limitations. Their blessings have nothing to do with the outward project itself, only with the inner transformation it brings about in us.
We are on the plane, as I write this blog, on our way back to India. These two thoughts are the greatest gifts I'm bringing with me to our next project in Mumbai!
Jai Guru, Jai Swamiji!