There was a time in my life, when things weren't going very well. I desperately needed a break from the environment. It was December. In Delhi, it is the beginning of winter. So, I was wondering where I could go to escape people. Eureka! I decided to hike up to mount Triund hill: a 4 hours hike from Dharamsala. It was a perfect idea as that was the time of snow and anyone would rarely choose to go to such a place and expose themselves to severe climate.
As I started the climb, I realized I was alone. What joy! I continued. Majestic beauty of the mountains kept me going without much effort. As soon as I reached Triund, I noticed that a chowkidar (caretaker) of a semi-constructed guest house was still there. I was sort of relieved to see him as I could spend the night under a roof and not worry about putting up a tent in snow. I was very well prepared for the cold climate so I put on many extra layers and was enjoying the solitude. Finally, I thought, "Here I am"!
Not even 10 minutes later, I heard a lot of ruckus. Young loud voices! I couldn't believe my ears. Soon the voices become louder and closer. In frustration I looked out of the window. To my greatest dismay, a group of youngsters, entirely unprepared for the severe weather had arrived. The chowkidar had no choice but give them shelter and not only that, but make sure that they stay warm the night. The entire night, there was singing and chatting and the solace I had hoped for was lost even in the remotest possible place.
In one of his songs, Swamiji writes: "Wind on a hill sounds lonely if you are sad, free if you are free, cheerful if you are glad". Isn't it true. If the heart is not at rest, nothing outside seems to matter, everything around seems to get tainted. And no amount of outward travel can help, the taint still remains. The wind remains lonely! The remotest possible place remains noisy!
Many years later, I found myself in company of a saint who used to live at the foothills. He used to take a walk every afternoon and this walk was very much talked about in his evening satsangs. Everyone but me seemed to have been to that walkway. So I
decided to find that walkway. I tried for many hours but I just couldn't locate absolutely any of the places they used to talk about. That evening, I mentioned to him about my failed search. He looked at me, smiled, and said, "Don't worry about the outward path, Go inside! Go for Antar Yatra!".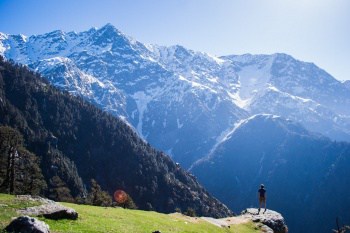 In that same song, Swami writes:
"It's in your heart, the songs of joy resound, you will hear but echoes in the world around".
If you ask the wind "why are you lonely", she asks you back "why are you?" If you ask the mountains why they are noisy, they ask you back the same. And if you ask the flowers why they are happy, they in turn smile and reflect the same question back to you. These lines from Swamiji are a great invitation, an invitation to see the world from within. To see the reflection of our inner reality in outward manifestation and let the outward reflection remind us to find its resonance within!