Many blessings to everyone on this special day of Paramhansa Yoganandaji's birthday!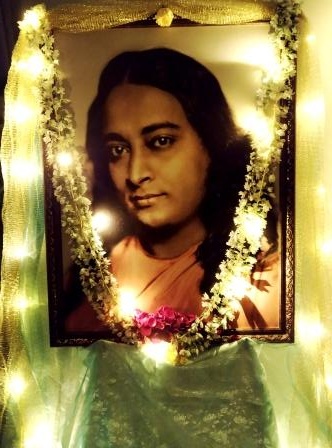 As humans, sometimes we feel lonely, we want to have our guru with us, we want to touch his feet, and we want to come close to him. Well, we have to uplift ourselves to be able to do that we have to raise our consciousness; we have to think him close all the time. To those who received him, he gave himself. And so our Guru came not just to give his teachings and Kriya yoga or to write books, he came to put his consciousness into the disciples, to transfer his magnetism, energy, spiritual Shakti (power) into those who were open and ready to receive. And this is a bond that the disciple has from many lifetimes.
I found it so thrilling to hear all the different readings from everyone in the audience today. Of course the readings of Master and Swamiji are beautiful but more than the readings, it is the souls who are beautiful. The greatness of the Guru is expressed in the disciples through their faces, eyes, their happiness and success. And these bonds we have are forever.
My early experiences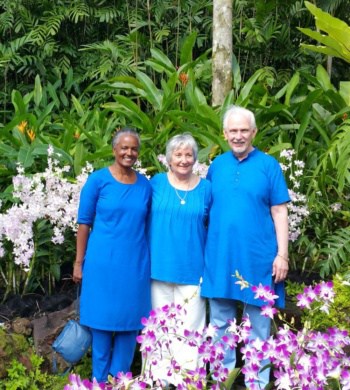 I recall when I read the Autobiography of a Yogi almost 40 years ago, I didn't understand anything! I didn't understand karma, I had never been to India, Reincarnation?! they never talked about that in my Bible study class! And he talked about levitation, and then a saint had two bodies and someone's resurrecting himself and on it went, and I thought this is all fantastic but honestly it went straight over my head! But, when I looked into the face of Paramhansa Yogananda, I looked into his eyes, I heard his voice, I started to his practice his meditation techniques, I read his books, I did the yoga postures and I saw the people, the saintly people of Ananda, I knew that he had come for me!
And in the beginning maybe you don't understand a lot, like how does Kriya Yoga really work or many other aspects of these teachings. We don't understand all the specifics, but we know in our hearts that that bond is forever. When the Guru touches your heart, it is like Swami Kriyananda said, 'You can't get him out of your mind. He will not let you rest until you have achieved your goal of final liberation, of moksha'
When the Guru comes, the Disciple is never the same again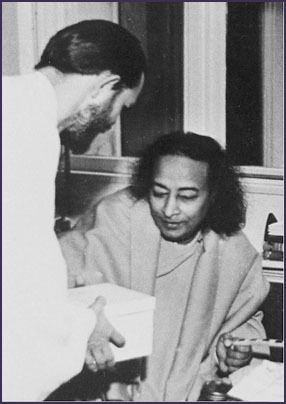 When Yoganandaji first met Swamiji, he put his finger over his heart chakra and his whole arm vibrated for two minutes. And Swamiji said he was never the same again! That was the touch of the Guru! When Dr. Lewis came, Yoganandaji gave him the vision, the sight of the Spiritual eye for the very first time and he was never the same again! Another man came to Guruji and he said he knocked on his door and said to master 'can you show me how to go breathless, I've tried everything!' And Yoganandaji said "Come in!" These are bonds that are forever. We pick up from where we left off and we keep moving forward.
Swamiji told beautiful stories of how he would just be sitting in a room with Yoganandaji and his energy would lift up! Just because of sitting with the Guru. It was because of the vibrations of the master. We can't rely only on books and techniques, we have to rely on that power that the master plants in our hearts like a seed. It is transmitted from him to the disciple. Being a student isn't enough, or just reading and going to lectures.
The Guru wants to give his consciousness, his energy, his magnetism, everything he is, everything he has and plant that in the disciple. That's the 75 percent that we've talked about! With the 25 percent, we do our Kriya practice, we chant, energize, practice Hong Sau, sing in the choir and so on. That's our twenty-five percent of effort. But it's only to open us up to the flow of grace that's always there.
What Master brought
Master brought hope for our life to be better, to get out of pain and suffering, sorrow and negativity, selfishness and greed and wanting more things, and living an outward life. He brought a way to go within and be so blissful, so uplifted, to live so much in the light that all the darkness just falls away.
Swamiji asked master once to bless him and master said "I'm already blessing you." We already have so much, we have no idea! All we have to do is to open our hearts and receive. We have to get in attunement with that flow of the grace and the joy is already there. Wake up in the morning to that affirmation "the joy is already there" we just have to attune to it "the Bliss is already", "the master is already there, he's waiting for me".
"To those who think me near, I will be near" – Paramhansa Yogananda
This year make it your goal to think of the Guru. Think him near, draw him here!
I asked Swamiji once when they were with master, if he ever embraced them and or if they were ever able to embrace him. You know sometimes you just feel like you want to reach out to the guru! And Swamiji said "No! We only ever touched master's feet. But once in a while, he would allow you to put your head up against his shoulder." So sweet! He's our father, mother, friend, everything. Without him, where would we be? That's the Guru and we're his children. Spiritual heirs to his spiritual wealth. He's giving his power, love, his joy to all those who are open.
The Guru came, yes for a world mission, but he also came personally for each one of us. Don't let this lifetime pass. The train is moving, stay on board! Let the master take us to self-realization in this life!
We don't know how far we've come, stay on board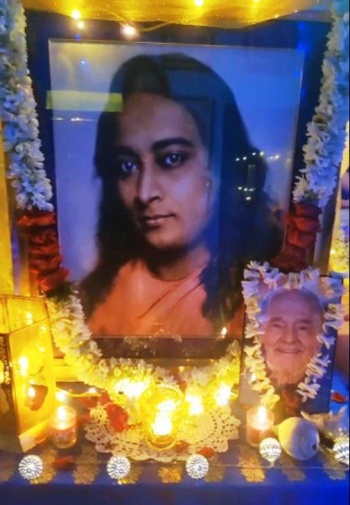 There was a man who came and master said if you leave now it is going to be two hundred lifetimes (not years, lifetimes) before you can get back to the point you've reached now in your spiritual progress. We don't know how far we've come. And the man left. And master wept! We don't know how close we are to the end. The guru says 'I've given you everything, just stay with me and I'll take you all the way'. Another woman he said if she had stayed 24 more hours, she would have rid herself of that karma forever.
We don't know what a great life time we have. Let's take full advantage and bow again and again and again at the feet of the great ones and our divine Guru. God bless you and Happy Master's Birthday.
(Excerpted from a talk in Ananda Gurgaon on Paramhansa Yogananda's Birthday in 2014.)