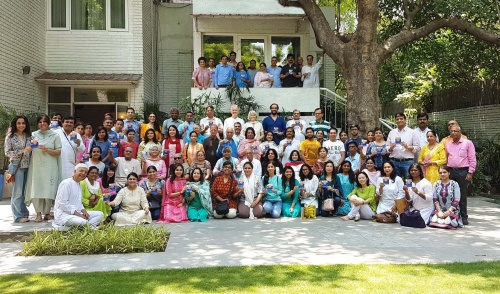 Meditation and Kriya Yoga helped me to find a purpose and fulfillment in my life when I had come to the point where I thought no such thing was possible.
I grew up in San Jose, California during the 60's and 70's. Most of my life I was seeking happiness outside myself in things and situations found in the world. What I'd say now, in my more "yogic terms" would be that my energy was flowing outward toward the world, since birth. The "search light of my senses" were always directed outward.
I thought that if I kept expanding my interests and moving outward, eventually I would find something that would permanently satisfy and fulfill me. Therefore I led a life of regularly changing occupations, expanding my bank account, extensive world travel, frequenting innumerable restaurants and other forms of entertainment (including an untold number of rock concerts), constantly acquiring new clothes and other possessions, constantly chattering about life's ups and downs with family and friends, and pursuing new friendships and relationships. I thought that surely I must eventually discover my "niche" in life and find contentment at last.
At last I began seeking for a church or spiritual organization that would help me feel closer to God and find inner peace. Over a period of 15 years, I went to innumerable classes and seminars, read countless number of books, and eventually understood that I would need to start meditating. Interestingly, although so many groups and organizations were talking about meditation, I could find hardly anyone who was actually doing it.
Luckily, at one point my world travels brought me to India where I observed and understood that one didn't need to have material wealth to be happy or find inner peace. Then, when I returned back to California, a dear, older relative gave me a copy of Autobiography of a Yogi by Paramhansa Yogananda.
Soon after that I found Ananda Sangha in Palo Alto, in the heart of Silicon Valley. There, I learned to meditate with Paramhansa Yogananda's scientific, practical techniques and began to experience the peace of my own inner self. I began to comprehend that the peace and inner joy and fulfillment that I'd been looking for my entire life — I was now finding within.
Although most situations in my life looked the same as they always had from the outside, my perception of myself and my life had shifted, and to me, everything was different. I was experiencing life from the Inside Out, and not the other way around. Life became an adventure in increased awareness, gratitude, and opportunities for spiritual growth.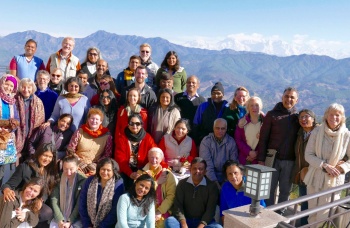 I also soon realized that the Ananda members were an amazing group of people. Almost every one of them were consistently good, honorable, selfless, dedicated in service, and joyful. Swami Kriyananda, the founder of Ananda, said that "If you see one or two people like this, you might think they are special, or just very good people. But when you see this consistently with many, many people, you have to realize it's what their doing that makes them this way." (I have since experienced this same phenomena with Ananda devotees in many different countries and cultures, over a span of decades.)
I've now been with Ananda Sangha for 25 years, and now currently serving at Ananda's Ashram in Panchsheel Park, New Delhi. I now experience
daily the innumerable blessings of a balanced life that includes a consistent meditation practice, (in my case Kriya Yoga taught by Paramhansa Yogananda), harmonious, joyful fellowship with members of my spiritual family, and the blessing of being able to be of service to others.
As I move along the spiritual path I've come to understand that true happiness, fulfillment and peace is not possible without a dedicated, disciplined self-effort at turning the searchlight of my senses inward, and the divine, guiding presence and grace of God and Guru.