On March 8, we decided it would be wise to cancel our all-India Kriyaban Retreat outside of Bangalore.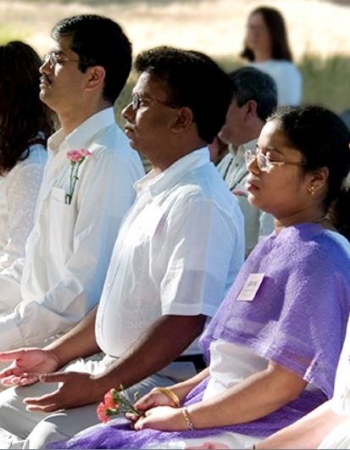 That sounds like a simple decision, but we cancelled three days before the retreat was to begin, with over 100 people scheduled to fly there from all over India!
Coronavirus was only beginning to show itself here — but with a number of older and at-risk people attending, there was just too much potential for causing severe harm to some of our dearest friends.
Many people were surprised. There was a real cost for everyone— people lost money on their flight tickets, and our India Kriya Sangha lost the expenses we incurred for all of the flights for the teachers and staff. Most people were extremely supportive and understanding.
After making an important decision, sometimes God will show a sign of support or approval if it was the right choice. We had no idea what the coming days would hold for us!
We decided to offer a free Online Kriyaban Retreat instead, for the same three full days. We invited "the 100," as we began calling them—those who were registered to attend in Bangalore—along with other kriyabans in India.
Planning, promoting, organizing, scheduling, and doing all of the background technical details to live stream our first-ever online retreat, on only three days notice, was an awe-inspiring task! The Ananda monks living in Khandala did an amazing job of pulling it off, without any serious glitches.
The end result of the retreat was uplifting, to say the least! Rather than 100 people, we had close to 400 Ananda India Kriyabans join us for different parts of the retreat. Over 190 people attended one class, and we consistently had about 100 for our daily morning two and a half hour meditations.
We reached far more people than if we had held a physical retreat. It also launched us on an entirely new way of sharing with our friends during these challenging times, when many are now quarantined or staying at home.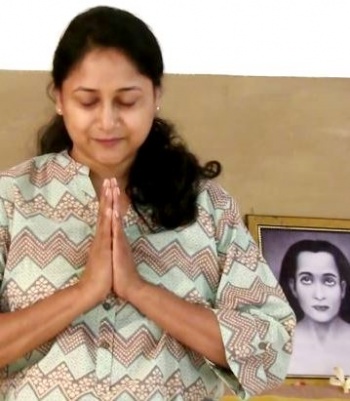 Most importantly, we learned that online retreats, satsangs, and classes can inspire and feed people during these times!
Since then, Ananda India has offered free live-streamed meditation classes to hundreds in India who are staying at home, along with many daily guided meditations and other classes. We will offer more online retreats—and in-person retreats again—when the timing is right.
Please, do yourself a favor and begin using the resources that are linked below.
Now I'll step out of the way and let the retreatants share their inspiration from an online retreat:

"I would like to Thank you and express deep Gratitude to all Acharyas, Monks and Gurubhais, for conducting this wonderful online retreat, against all odds. The Online Retreat experience was different and equally magnetic. We all felt the group energy during meditations, classes and all discourses.
One more realisation I came to know through this retreat is that I have a lot more time than I realise for God. Earlier I didn't notice this time amidst all my activities. I managed not to miss anything of the retreat."
---
"I was able to schedule my day as per the retreat (I'm still following that) and feel so much more inspiration, clarity and energy throughout! I got much more done, and with more joy! I even wore the silence badge at home, haha! It helped that I don't have to go to office.
It was one of my best retreats with Ananda so far, helping me be so in tune with Master and you all, and integrating it as a part of daily life!"
---
"I am a one-week old kriya initiate and had the good fortune to be a part of this august gathering. I am sure it is all part of the Master's plan as too many happy coincidences have brought me to this place.
I have got insights from the great kriyacharyas who have conducted these sessions that I wouldn't have learnt in months. I'm sure the Master has planned all this and the way ahead. With gratitude to all of you, Aum Guru."
---
"Heartfelt gratitude to all the Nayaswamis, Brahmacharis and Acharyas who made this beautifully divine retreat possible. The grace of God and guru was very much tangible. Look forward to many more events like this. Thank you all once again! Aum Guru"
---
"It's beautiful and so strong, this way of connecting with others at Ananda. Thank you for this blessed service."

Join Ananda Online now:
Ananda India's Online Schedule: https://anandaindia.org/online-spiritual-support-for-challenging-times/
Upcoming Offerings from Ananda Centres Worldwide: https://www.ananda.org/community/upcoming-events/
Be a Warrior for the Light:
Weekly Live Broadcast of Affirmations and Prayers for the World
https://www.ananda.org/be-a-warrior-for-the-light/