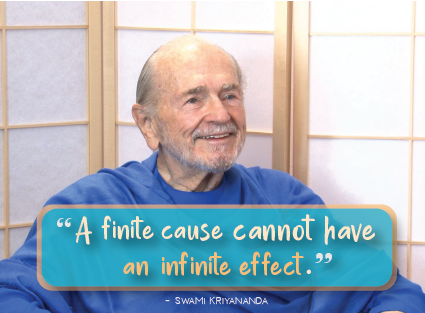 "A finite cause cannot have an infinite effect." Swami Kriyananda often quoted that statement to counteract certain Christians who preach that God will punish sinners with eternal damnation in hell.
Similarly, all karma is finite and has a beginning and an end. This is helpful to remember whenever we are caught in pain or suffering that seems like it will go on forever.
Patience and perseverance are two of the most important qualities for surviving all the tests of karma that we face in this life. Other practices can hasten the completion of karma. Some of these are described in Paramhansa Yogananda's Autobiography of a Yogi. They include: meditation; the help of a guru; an astrological bangle; and more.
A delightful lesson on karma
I learned a delightful lesson about karma and its workings many years ago. I was at an Ananda community work day, assigned to what we joyously call "Tamas removal" cleaning up old trash and junk.
As I was gathering trash, a sharp object suddenly pierced my shoe and went into my foot. I thought I had stepped on a nail. The area was so full of trash, that I couldn't find the culprit. I had a minor wound cleaned up by a doctor, and a tetanus shot in case of infection.
In the following weeks, the pain in my foot wouldn't go away. It felt like something was still there in the foot. X-rays were taken, they showed nothing. Weeks later the pain persisted, so a doctor cut into the foot to look for a foreign object and couldn't find anything. Nothing more could be done.
For years, I had pain coming and going in the bottom of my foot. It wasn't extreme, just an occasional reminder that this world is one that includes both pleasure and pain. As the saint Anandamayi Ma said, "This world oscillates endlessly between pleasure and pain."
When I would go jogging over the Ananda Village hills, it would sometimes feel like I was stepping on a nail again, then it would go away for a couple of months.
Finally, about twelve years from when this finite karma began, the pain began increasing. The skin on the bottom of the foot started forming a very hard spot. The doctor thought it was a virus or infection, so he began freezing it with liquid nitrogen to draw out the infection. He did this a few times.
This took some weeks, all as the pain began getting more and more noticeable.
One day, as I was soaking my foot in the tub and massaging the bottom of the foot, a bright object suddenly began poking its head out. You can imagine my utter surprise, and delight, to see a very fine, very sharp sliver of glass that measured a full ¼ inch long! I was stunned that this thing had been floating and moving about inside my foot for twelve years.
That was the somewhat dramatic end of that karma, just as all karma must find completion—often dramatically.
I learned a few helpful lessons from my karmic teacher, that shard of glass:
All karma is finite, it has a beginning and an end.
When the pain increases, it can be a good sign. It often means that a karma that has been buried in our subconscious or past is finally working its way to the surface, and preparing to leave us.
Swami Kriyananda wrote that, "Pleasure and pain equally, [are] opposite (or dual) expressions of eternal, divine bliss." Remembering this through all the tests of life can help us to not get too high or too low when those opposites come.
Patience and perseverance are divine qualities. Sometimes God or the guru want us to learn them more deeply, and will give us the gift of a challenging karma to help us learn that lesson. We can be grateful for all that comes to us!
I've applied the lesson of the shard of glass to karmic tests that were much more extreme. These truths hold true no matter what we are going through. Patience and perseverance will get us past the end of all karma and to divine freedom.
Other approaches are helpful for being free of the negative effects of karma. The greatest way is to live in inner freedom—you will no longer live in fear of karma.
Paramhansa Yogananda taught that as the greatest way to become free from karma:
"Your job, for now, is to get to God. Don't worry about all the karma you will still have to complete. Let God worry about that!
"First, destroy in yourself the source of karmic involvement. That source is your attachment to the ego. Once the ego is merged in Him, then any actions you perform will no longer revert to yourself. Your actions will be like writing on water: They will leave no trace in the mind. In severing yourself from egoic involvement in any action that you perform, you will have cut the Gordian knot of delusion.
"This is the state of the jivanmukta, one who is free inside even while living in this world. Being inwardly free, nothing he does can ever affect him again."
(Nayaswami Devarshi & Brahmachari Jemal present an Online Course: "Karma and Reincarnation: The Wisdom of Yogananda". For more information, CLICK HERE.)