God is with us from the beginning, whether we are aware of it or not.
Steve Jobs once pointed out, "You can't connect the dots looking forward; you can only connect them looking backward."
I came to Ananda Sangha in 2014.
Did I meet Swami Kriyananda before 2014?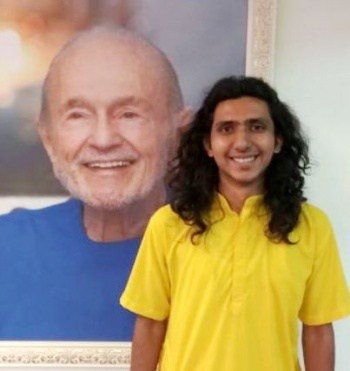 The following 'dot' happened around the year 2003. I might have been in my seventh grade back then. The school I went to was a very creative and forward looking school. I remember having academics for the first half of each day until lunch, then the students learned arts in the second half. There were classes in music, dance, electricals, screen printing and painting. Our days ended with sports and games. Though I complained about the school being very strict, I still had a lot of fun.
Each day started with the sound of the bell, which commenced our assembly session. We sang the national anthem and many other uplifting and memorable songs throughout the week. Each week the School Principal selected a virtue such as Peace or Righteousness or Morality, etc. From Monday to Friday he spoke about this virtue for about ten to fifteen minutes. All the students made a note on the important points covered in his speech.
At the end of the week, students were given an opportunity to share all the main points covered by the Principal about that particular virtue. The students who could do this well were given the 'Best Listener of the Week Award'. One particular time, I was very glad to receive this award. I still cherish the book which I received as an award.
Fifteen years passed.
Around the year 2018, I went to visit my parents. I happened to open my cupboard to check on my personal library collection. I was surprised to see that book which I had received as an award during my school days. Any guesses on who the author is?
It is a book by J. Donald Walters (Swami Kriyananda)! The name of the book is Secrets of Bringing Peace on Earth.
Reading Swamiji's name left me amazed and open-mouthed. I hadn't realized that Swamiji was the author of the book until then.
Swamiji's book came to my hands a decade before I came to Ananda. I choose to see this as a special gift from Swamiji rather than as a coincidence. At present I stay at Swamiji's Khandala Monastery. Now I am able to connect the dots backward on when I first Befriended Swamiji.
So, did I meet Swamiji before 2014? The answer to the question is a Yes! (it was through this book).
I would like to end with Mahavatar Babaji's words to his beloved disciple Lahiri Mahasaya. This is true for all the disciples of self realized masters.
"…Though you lost sight of me, never did I lose sight of you! I pursued you over the luminescent astral sea where the glorious angels sail. Through gloom, storm, upheaval, and light I followed you, like a mother bird guarding her young.
As you lived out your human term of womb-life, and emerged a babe, my eye was ever on you. When you covered your tiny form in the lotus posture under the Nadia sands in your childhood, I was invisibly present! Patiently, month after month, year after year, I have watched over you, waiting for this perfect day. Now you are with me!.."
(If you feel inspired, please read the former blog by Premdas –  "Befriending Swami Kriyananda" to help connect further dots. :))