My initial attempts at seclusion
My first seclusion was in company of fellow devotees at Mt. Abbot in Uttrakhand, Himalayas. A wonderful experience, but I came to sad realization that I can't meditate for more than an hour at a time. With the crash of my dreams of achieving Yogic greatness, I was embarrassed and ashamed to be the cause of disturbance to my fellow meditators. I came to the conclusion that I have to go for seclusions alone so that I could follow my own rhythm without troubling anyone else.
In May 2018, I made my second attempt for seclusion. This time I drove some 420 kms to a remote destination near Babaji's Gufa (cave) in Uttarakhand, staying at a Guest House in the Dunagiri forest area, sparsely populated, beautiful and peaceful place. The next morning, I made the short hike to the Mecca of followers of path of Kriya Yoga. I was dismayed to see how small the cave was. The floor was wet due to rains the previous night. I managed to spend only 5 minutes, before exiting the cave. Physical discomfort and mental restlessness didn't allow me more time.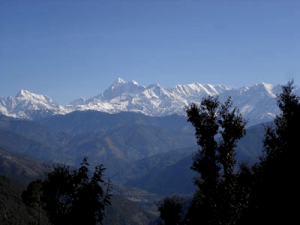 I decided to walk up a steep and very lonely path, which took me to top of the mountain to the Pandav Kholi ashram, where the Pandavas are said to have stayed while in exile. Again, the mental restlessness didn't allow me the truly enjoy the place, which receives hundreds of pilgrims very week. Next day, I left for Delhi, one day less than my original plan. My mental restlessness had won!
The third attempt at seclusion was in June 2019. I drove the long tiring drive taking 11-12 hours to the warm, cosy and welcoming guest house. The next morning I walked up to the Gufa and sat down for meditation. No deep meditation was possible. I decided to walk up to Pandava Kholi again. A very short while later, under the relentless and strong sun, I experienced pain in my left chest. I rested and started climbing again. Few steps and the sharp shooting pain jolted me again. Fear and worry set in. Was I experiencing a heart attack? I abandoned my quest and slowly walked down to the guest house. I reached the guest house very exhausted and slightly worried. My energy sapped, I rested and slept.
Two hours later, I decided to go for medical consultation. First a drive to a doctor in the nearby town of Dwarahat and then longer driver for ECG to the distant town of Ranikhet cleared my doubts of heart attack. The culprit was identified as severe acidity, caused by eating spicy vegetables and oily parantha during the long drive! For the next two days that I was there, I kept my daily schedule light with gentle walks and few short meditations. No great insights, no lofty deep meditation this time either!
Inspiration for this blog
The next and the recent effort at seclusion was from 8th October to 13th October 2019 and is the inspiration for this article.
On Tuesday Morning, with the permission from my family, sorely given, and my Boss, I set out on the long drive, departing at 4:20 am from my house. My trusty, though old and well driven car, Maruti Swift Dzire, which has already been driven over 2,20,000 km, continues to be the "old faithful" on my travels. Being Vijay Dashmi (Dusshera), the traffic was very light. Driving non-stop, except for a short tea break, I took care of food that I put inside my mouth, fearing a repeat of previous visit! At a brief stop at the town of Dwarahat to buy some vegetables, I was hailed by an Elderly gentleman who was looking for lift. Turns out this couple from South India were also staying at the same Guest House. I welcomed them in my car and we sped away, slowly, on remainder of 15 kms of narrow twisty mountain roads.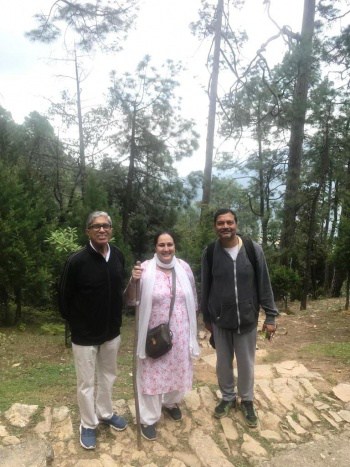 The elderly gentleman, very talkative, was on first visit to Babaji's Gufa. Though a devotee of different path, but having heard of Babaji took the advantage of an opportunity to visit the cave. He eagerly gushed about the "energy" he expected to receive when he and his wife visit the cave. I listened politely wondering if I had received any "energy" or even "blessings" in my previous two visits.
During my previous visit, I had an amazing spiritual experience in the Dunagiri Temple. I wanted a repeat, but was afraid that due to Dusshera the temple will be very busy and noisy. I was pleasantly surprised to see the temple entrance empty. I told my "hitch hiker" guests that we will walk up the steep 365 steps to the have Darshan in the temple. I am not much of temple visitor. My visit was more for the small shrine dedicated to Babaji near the temple precinct, where I had the spiritual experience previously. After the darshan and a brief meditation at the shrine dedicated to Babaji I headed back down back to the car park. Here my guest gushed very emotionally with tears in their eyes on how blessed they were to visit the temple and have darshan of the Dunagiri Devi! I was stunned. Their visible devotion was something which, I didn't feel. I slapped my chest and the knocked on it with my knuckles and mentally asked "anybody in there?"And this feeling stayed with me for remainder of the trip, haunting me. I keenly felt absence of Bhakti in me. Was I going through my life with a heart made of stone? Was my heart a barren desert with no devotion?
The long drive and an upset stomach induced headache gave me a tough night. I had severe pain in my shoulders and a sore neck, either from driving or some stress. Next day, the early morning meditation in the meditation hall at the Guest House was punctuated by Calf and shoulder muscles crying for relief. No deep long meditation for me. After a quick breakfast, I walked up to the Gufa, acting as guides for my new found companions. There were a few devotees inside and I couldn't find a comfortable position. My lower back added to the list of body parts which were crying out for relief ended my attempts at meditation.
Experiencing inner turmoil
Back in the guest house, my emotional state hit the lowest point. I was upset. For the remainder of day, I was in severe emotional turmoil. Why was I here? Was it worth it? Am I even worthy of being a meditator. Along with the body pain, emotional grief overwhelmed me. Leaving my family for seclusion is not easy. I am aware of the resistance and pain of my family towards my periods of absence. Are these attempts at seclusion really worthy of emotional and physical pain, not to mention the financial expense? Such were my travails on Wednesday. The apparent lack of devotion or Bhakti howled at me. While I prayed deeply for the welfare of my family, for myself I only asked repeatedly for Bhakti. May the great Gurus make my heart flow, was my only prayer for myself.
Getting re-inspired with the techniques 
Sometime in the afternoon, I was listening to a lecture given by long time Ananda Devotees in an American Corporate. 20 Part Body recharging exercise was taught and a guided visualization on bring awareness to any part which was tense or paining was done. While the rest of the talk was very interesting, it suddenly struck me, yes, I should be doing the Energisation Exercises and the visualization. Before the evening meditation, I took about 40 minutes for the Energisation exercises. After the meditation, during rest of the evening, while sitting or lying down, I tensed individual body parts, which were hurting, and chanted Aum mentally in those body parts.
The next morning, I did the Energisation exercises, again with greater awareness and then few Asana and pranayam. After years, I had my first long meditation, with 108 Kriya followed by Hong Sau and Japa of Mahamritunjaya. After breakfast, I walked up to Gufa and found it empty. Today I was better prepared and had carried a makeshift cushion. Energisation exercises and Mahamudra preceded my meditation. Again 108 Kriyas followed by other techniques. Fervent prayers for family welfare and my own desire for bhakti were offered at end. Evening meditation went same way, 40 minutes of Energisation Exercises, followed by some Pranayam, Mahamudra and some Asan, and then 108 Kriyas. The day ended with a sense of happiness, as the evening meditation was also deep with a nice experience of silence within. Fervent prayers were offered at end as usual.
Friday morning bought a surprising and a welcome experience. All my body pains, stiffness and sores vanished. The most surprising was the relief from the pain of in-grown toenails. The thought came to mind "damn, the energisation exercises do work!" With more joy, I repeated the schedule of Thursday. Two thoughts continued to gnaw, lack of Bhakti and apparent lack of receiving any "energy" or blessings during my visits to the place held most reverential on our path.
Resolution of my doubts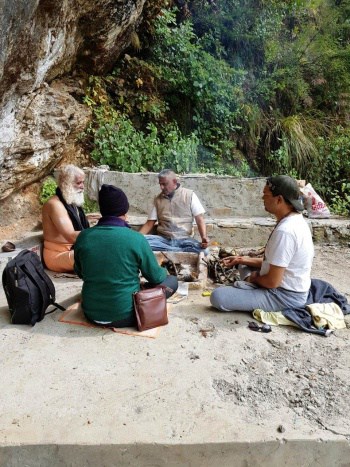 Saturday, last day of my seclusion, bought resolution on my two doubts. I reached Gufa a little later than other days and found it fully occupied. Apparently family members of Rajnikanth, the superstar of South Indian cinema, were doing some puja in the cave and I was also lucky recipient of Prasad they had offered the Great Babaji. While sitting outside the cave, waiting for people to leave, a local guide struck conversation with me. As a rule, I don't like talking to people, preferring "maun vrat" (verbal fasting). The local guide while informing me of the prayers inside, offered to show me another larger gufa nearby, terming it Babaji's Gufa. I was interested, being up for all kinds of adventure. I agreed, silently wondering how much it will cost me. As one set of devotees left, I found space inside. Three devotees from Gujarat were inside chanting loudly. Initially I chanted mentally and then later on softly. The vibrations of the chanting were wonderful. After the chanting, the three devotees offered flowers and other items to Babaji. Ah, another nail in the coffin of my not having bhakti. Woe is me. I have been coming to the cave and never considered bringing any offering to the great Guru, whose blessings I seek!
As the three devotees left the cave, I followed them. Instead of meditation, I decided I wanted the opportunity to see the other cave. With folded hands, I humbly requested the group if I could follow them. They gladly agreed. With the local guide, we walked some 100 meters from the Gufa to a place where a Bengali Yogi meditated from September 1962 to May 1983. A havan was conducted with all traditional offerings. I was supremely happy with this unexpected treat. Simple Yagya with few chants repeated 11 times each. Simple yet powerful. Then we walked back towards the Gufa, but just off the main path, about 50 meters from the popular Gufa is another Gufa. The guide informed us that though the inside of the cave is huge, the entrance is extremely narrow. An oil lamp was lit and placed inside the entrance, a humble offering to Babaji. None of us dared to crawl through the tiny opening. I did pop my head inside, with the intent of going in, but changed my mind seeing the extremely cramped passageway.
Coming back on the main path, just meters from the Main Gufa, I saw a familiar face. Mr. Pandey from the West Delhi Center. The West Delhi Center were making with pilgrimage with 33 members. I was overjoyed to see them. Sensing that they will take some time in completing the meditation inside the Gufa, I left them and started walking down back to the Guest House. I soon realized, that I was surprisingly full of energy and couldn't slow my pace down. I was behaving as I would have 25 – 30 years back. Those who have been to the cave know how steep the path is. I was running, skipping and leaping on the way down. I was wondering why I suddenly had so much "energy" when I tripped and fell, fortunately only hurting and scrapping my right knee. But even the fall and injury couldn't diminish the pace and Joy I felt. I realized that my doubt on my ability to "receive" energy was put to rest with this direct experience.
While I didn't fully grasp the significance at the time, much latter, I realized that the "coincidence" of meeting up with the local guide leading to a very blissful Havan/ Yagya could have only been possible with the blessings and guidance of Babaji. The thought and realization occurred that surely, I have enough devotion and bhakti that Babaji would offer me these experiences. Just the opportunity to go on Seclusion is itself a great blessing, given my family's reluctance. Taking a larger picture, considering all the factors and turn of events, I felt sure that the Gurus are guiding my life. Back home on Sunday evening as I was sharing my trip details, my daughter pointed out that I had mistakenly assumed the emotional display of the elderly gentleman to be the sign of devotion, whereas my devotion is more inward and undemonstrative.
While some may term it as mere coincidence, I insist on the silent hand of our Spiritual Masters in all that happens in my life. Thank you Babaji and my Guru, for taking the pains to offer resolution to both of my doubts.