When I started construction of the Ananda Dehradun Meditation Camp in the Fall of 2018, I didn't think much about what it would all lead to. It just felt like the right thing to do at the time. It didn't occur to me that starting a large construction project in India as a senior might not be the most practical thing to do.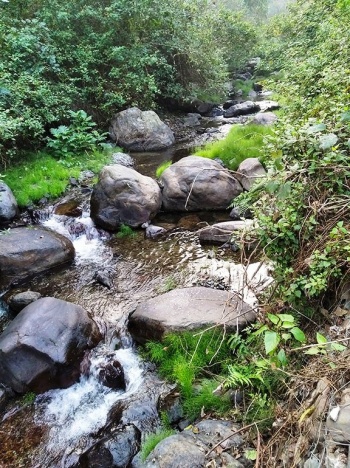 But having spent 12 of the past 15 years in India, mainly in cities, it seemed like the right time to get out into nature. Ah…to be a Himalayan yogi! I never even imagined it when I started on the path over 50 years ago.
From the very beginning of my experience at Ananda in the 1970's diving deep in meditation was the foundation of aspiring to go from seeking God to knowing God. Our path of service and meditation began by being a lot of activity with sessions of sitting and staring into the darkness…not a whole lot of light.
Gradually through the practice of Kriya Yoga and lots of Grace, meditation began to include occasional experiences of deep peace and eventually profoundly meaningful communion.
Lessons over the years
Over the years I have observed that if one can just get through the initial training period that it takes to achieve a level of inner stillness, positive results of meditation will present themselves and the dividends will increase through your whole life as long as you don't give up your practice.
Regular daily meditation for 30 minutes to 1 hour twice a day is basic training. To accomplish as much as can be done we must dedicate more time to our efforts whenever possible.
In the early years of Ananda we used to go as a group of 15 or 20 people into seclusion for 3 to 5 days. We would keep silence and chant/meditate for at least six hours a day. This was a great help to getting started with seclusion…doing it as a group. Once you have experienced the group energy in seclusion it is easier to achieve that flow on your own.
Understanding Seclusion
Personal seclusion isn't just sitting around and not talking, it is a dynamic effort just like trying to climb a very tall mountain. You must give yourself completely and energetically to the task, but not so much physically as inwardly.
I once had the chance to be in seclusion with Swami Kriyananda for 3 months. We rented a house near Nishat Bagh on the northern side of Dal Lake in Kashmir. It was my first experience of the Himalayan foothills and deep seclusion with Swamiji.We each had our own separate places to meditate and created our own schedules, but there was definitely a sense that we were all doing it together, each in their own rhythm. Swamiji recommended that we try hard, not with tension, but with inner relaxation. As the weeks went by I experienced deeper and deeper inner stillness: life changing inner stillness.
I later found out that for a period of time Swamiji had been doing 750 Kriyas a day during meditations of over 12 hours a day. Not something that the average meditator can do or should even try. The idea is that during seclusion we should challenge ourselves to do more than our normal daily routine… much more. We should try our very hardest, but….don't push yourself over the edge. This is something that experienced meditators learn over time, how much can you handle without doing too much and slowing yourself down. Meditating 6 to 8 hours a day during seclusion is very possible for most serious meditators.
I offer you a challenge and an invitation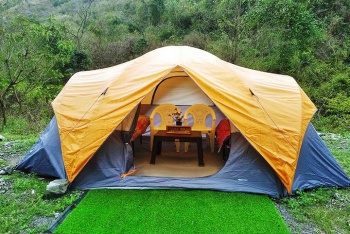 My purpose here in India isn't just to enjoy living as a Himalayan yogi for myself, but to share that experience with others. I have been pressuring myself to get the meditation camp open so that others can experience an opportunity to dive deeper into the ocean of Spirit. I had planned to announce being open for guests in the middle of March. My plans were perfectly in sync with the world closing its doors due to the Corona Virus!
Take this time during the social distancing of the Corona Virus and practice seclusion at home. I encourage as many people as possible to go deep in meditation during this time. Act responsibly as your circumstances inspire you, but also consider that the energy of life upheaval which many turn towards fear and suffering can be much more beneficially redirected towards blessing and upliftment. When we dive deep into the ocean of Spirit we uplift not only ourselves, but the whole world.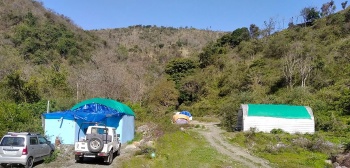 Take advantage of this unexpected opportunity. And when the travel bans are lifted and you feel ready, I invite you to come, as my guest, to the Ananda Dehradun Meditation Camp.
Of course everyone can't come at the same time! So please be in touch with me to reserve a space (Click here to contact Ananda Dehradun). May the Masters bless us and bless the world through us.