Honoring the 125th birth anniversary year of Paramhansa Yogananda, Ananda Sangha Pune recently organized an event titled "Guru Vandana," a musical evening featuring classical maestros by Pandit Hariprasad Chaurasia and Pandit Shivkumar Sharma. The event was a Fundraiser to support the Paramhansa Yogananda Charitable Trust, dedicated to restoring the dignity and divinity of the widows in Vrindavan.
The performance happened at the Ganesh Kala Krida Mandir in Pune, on Sunday, September 30, with over 2300 people gathered at the venue. This day was especially auspicious as it was also the birth anniversary of Lahiri Mahasaya, chosen by his Guru Mahavatar Babaji to disseminate the teachings of Kriya Yoga to the world. There was a tangible sense of joy in the auditorium and it felt like the masters were certainly present there with everyone.
This jugalbandi between Shiv-Hari has rarely been played and they certainly left the audience mesmerized. Bhavani Shankar and Vijay Ghate accompanied the duo on the pakhawaj and tabla respectively. Many newspapers covered the event the next day among one being the Timesgroup which headlined "Music virtuosos Shiv, Hari enthrall Puneites with pulsating jugalbandi."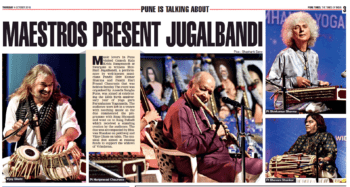 Before the performance, Pandit Shivkumar Sharma addressed the audience by giving credit to Ananda Sangha for "the great job they are doing in terms of social service and spirituality." He said he was very inspired after reading the Autobiography of a Yogi written by Paramhansa Yogananda and has read it many times. He also mentioned that Indian classical music and spirituality go hand in hand and they are two sides of the same coin.
The performance started with Raag Bhoopali, which Pandit Shivkumar Sharma explained was the first raag ever created in the history of music, and is capable of expressing different emotions, bringing about happiness and excitement in the listener. In the second performance they asked the audience if they would like to hear a pahadi rendition, something from the mountains. The audience was thrilled and there were many moments of soul touching joy which ended with a standing ovation for the entire experience.