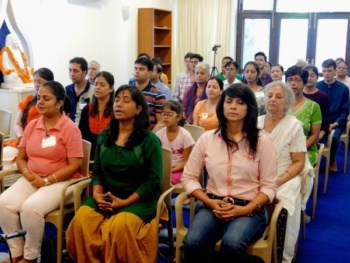 At Ananda, we share the path of Kriya Yoga as taught by Paramhansa Yogananda. Practical and scientific, the Kriya Yoga meditation course is offered over several weeks of study and preparation, culminating in initiation into the sacred path of Kriya Yoga. You can learn in person in one of our local centers, join Ananda India online, or take our self-paced Home Study course.
Step 1: Learn to Meditate
This step is a two-class series that introduces you to meditation, offering techniques and tips to relax the body and calm the mind.
Step 2: Deepen your Meditation
This step is a four-class series that introduces you to deeper yoga philosophy with practical activities that are life-changing. Also shared is a powerful yoga pranayam, known as Paramhansa Yogananda's Energization Exercises, that teach us how to draw infinite energy from the cosmos at will and is over a 100 years old.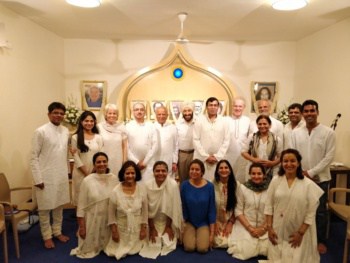 Step 3: Discipleship
This step is a six-class series with emphasis on the Guru-Disciple relationship and its importance on the path. This step involves initiation into the path as a disciple. Also shared as part of the initiation is a technique for communing with the Aum vibration.
Step 4: Kriya Preparation
This step is a four-class series that works with increasing the flow of energy in the spine, in preparation for Kriya initiation.
After adequate study, preparation, and practice, the student is initiated into the path of Kriya Yoga.
More classes and retreats are offered from time-to-time on meditation. Kindly check the event calendar on the site for the latest updates.
MORE ABOUT KRIYA YOGA
Interested and want to know more? Find here our page on Kriya Yoga.
Know More