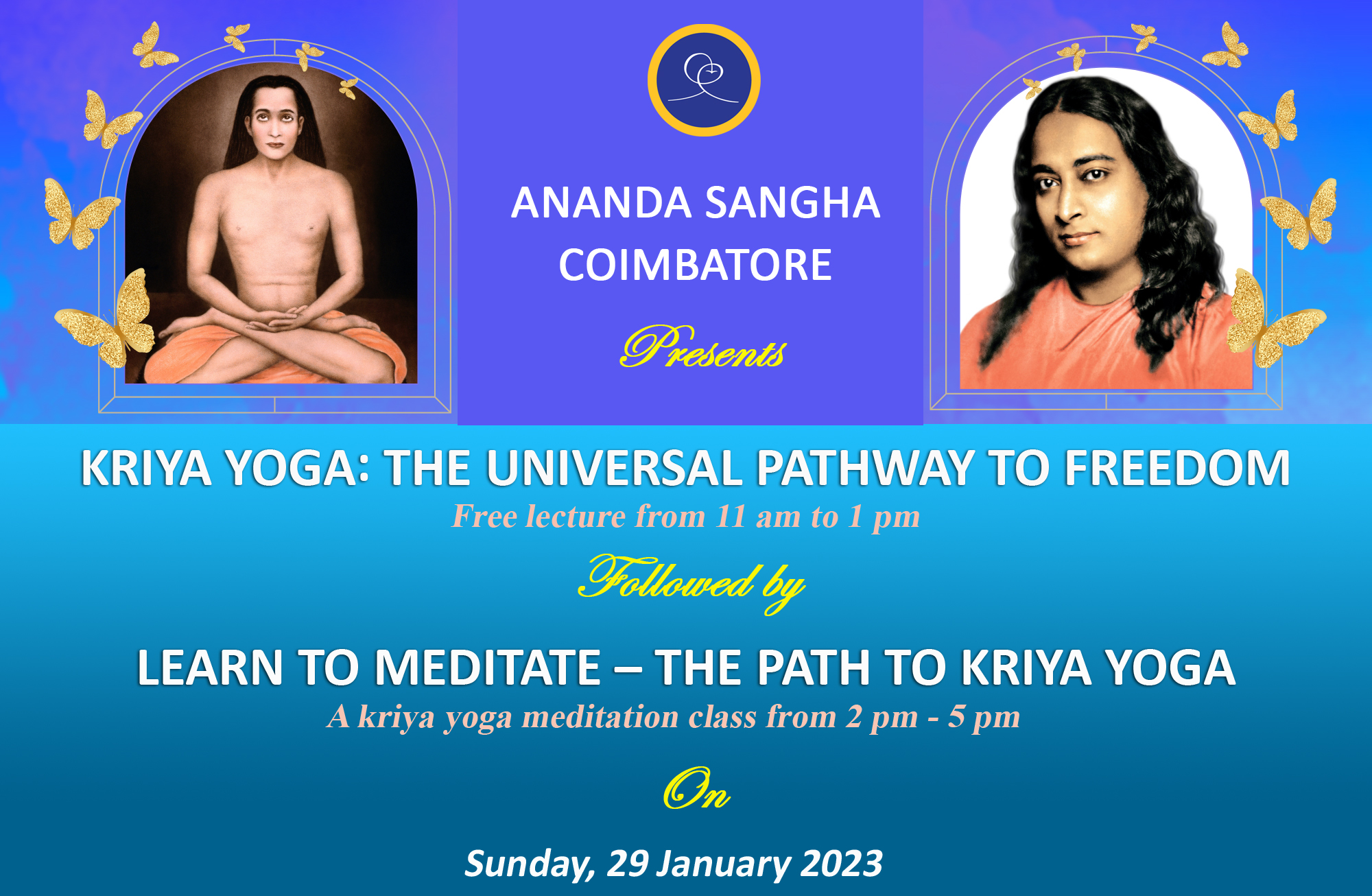 ---
KRIYA YOGA: THE UNIVERSAL PATHWAY TO FREEDOM
Free lecture from 11 am to 1 pm
Presented by: Nayaswami Jaya and Nayaswami Aditya
Kriya Yoga is a meditation technique that quickly accelerates one's spiritual growth. It became widely known through Paramhansa Yogananda's Autobiography of a Yogi. According to Yogananda, Kriya is the most effective technique available to mankind today for reaching the goal of Yoga: union with the Divine. Ultimately, it's more than a technique; it's a spiritual path that includes other practices, right living, and discipleship to the Kriya line of spiritual teachers, or gurus.
Please join our free lecture to know more!
---
---
Nayaswami Jaya is a co-spiritual director of Ananda India and also a founding member of Ananda Village, now one of the most successful such communities in the world.
Along with his wife Nayaswami Sadhana Devi, they started traveling often throughout India since 2006, to help and guide leaders and devotees with their duties and spiritual growth.
Nayaswami Jaya has been authorized by Swami Kriyananda to give initiation into the advanced meditation technique Kriya Yoga. He travels widely as an Ananda "Kriyacharya," sharing the teachings and techniques of Paramhansa Yogananda with audiences throughout the world.
Dr. Nayaswami Aditya is a Medical Practitioner, whose chief interests lie in sharing the teachings and benefits of yoga as a healthy and successful way of life. Aditya came to Ananda Sangha in 2008 and has since then actively helped with the Pune community operations. He also serves as the Spiritual Director of Ananda Sangha Pune. Apart from full time activities within the sangha, Aditya conducts yoga, meditation, health workshops in colleges, companies and institutions. He has conducted workshops on Health, Happiness and Success for many global industry leaders such as Tata Management and Training Center (TMTC), Infosys, Amdocs, Apollo Hospitals, and Metro.
---
LEARN TO MEDITATE – THE PATH TO KRIYA YOGA
A Kriya yoga meditation in (Tamil) class from 2 pm - 5 pm
---
About The Course
This course is highly comprehensive and you will learn the basics of meditation from "how to sit comfortably in meditation" to "experiencing feelings of deep peace and joy".
In Learn to Meditate course, you will study:
Powerful concentration technique of Hong Sau
Practical suggestions on how to sit comfortably for meditation
How to still the restless mind
The importance of breath/mind connection and the power of the focused mind
Basic principles for controlling and increasing your physical and mental energy
How to take experiences of peace and joy in meditation into daily life
---
---
Kriya Yoga is an ancient meditation technique of energy and breath control, or pranayama. It is part of a comprehensive spiritual path, which includes additional meditation practices along with right living.
---
Venue
Integral Yoga Institute
Shop No. 139, 86, W Sambandam Rd, R. S. Puram, Coimbatore
Contact: 94895 15733