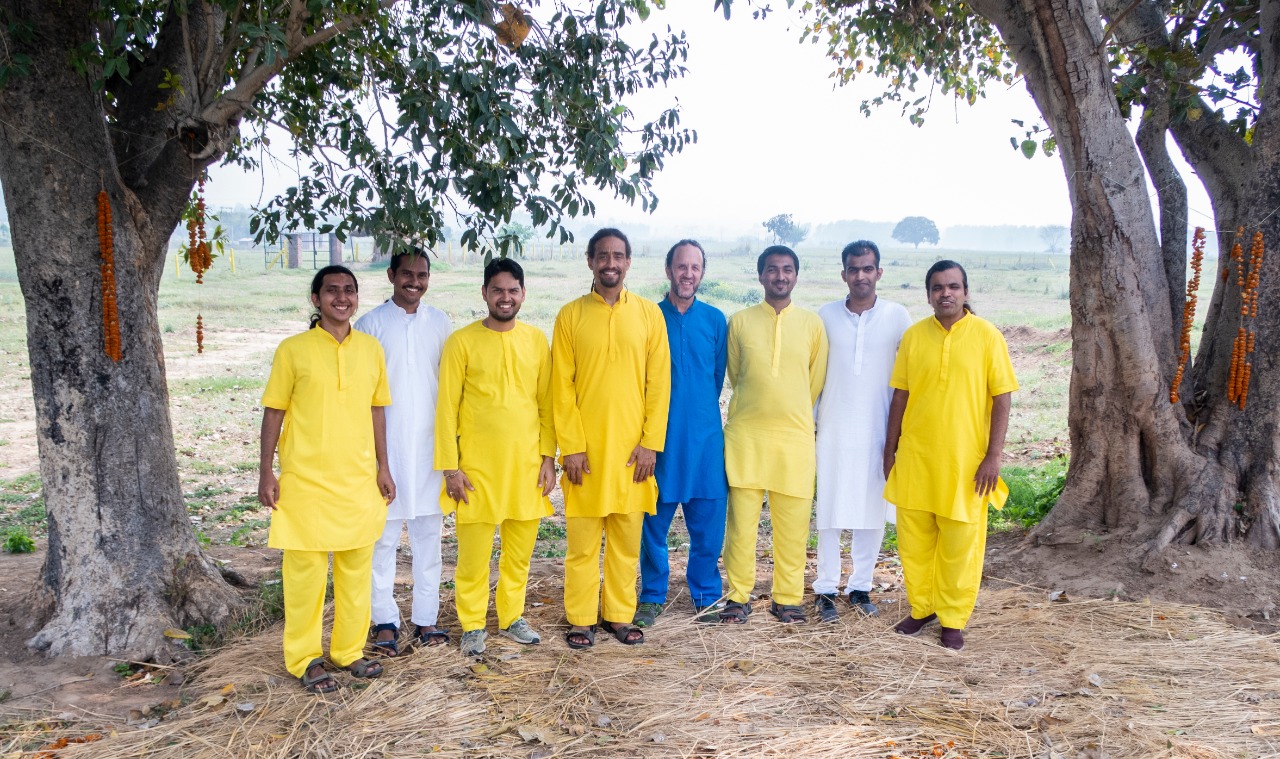 The Ananda Monastic Order is the monks and nuns of Ananda Sangha, who have renounced worldly life and dedicated their lives wholly to seeking and serving God. They live the teachings of Paramhansa Yogananda as a means of fulfilling the final goal of all souls: divine freedom or moksha.
Without marriage and family duties, Ananda monastics can be more fully dedicated to a life of meditation and sadhana, or daily spiritual practice. As part of their sadhana, they actively serve in helping to spread the teachings of Paramhansa Yogananda, through Ananda Sangha, founded by Yogananda's direct disciple, Swami Kriyananda. Ananda Sangha was founded in 1968. The Ananda Monastic Order was created in 1971.
Paramhansa Yogananda taught a more inner and positive form of renunciation than is taught traditionally. True freedom comes from ego-transcendence, gained by giving everything as an offering to God—as compared to a more traditional following of an outward list of rules prescribing the many things one should and shouldn't do.
The vows of Ananda monastics are three in number: simplicity, brahmacharya (control of the senses), and cooperative obedience.
March 2022 NEWS
We offer our deepest gratitude from the monastery for all your prayers, blessings and support. As you know, Ananda India Monastery has purchased a 4.5 acre plot in Boonga, Haryana, close to Chandigarh in June 2021. (Chandigarh is a few hours north of Delhi.) We are building the monastery as Swamiji envisioned – creating an uplifting environment to support monks in their deep communion with God, along with their joy-filled and intense Seva.
The Gurukripa Hermitage Monastery blessing was held on February 26, 2022 with Nayaswamis Jaya and Dhyana. Rain showers blessed us at the beginning of the event and, in a short while, the skies cleared for us to have a very special blessing ceremony! We performed a strolling kirtan where we showered rose petals and blessed the land with the holy water from the Ganges, River Jordan, and the Sea of Galilee. You will find the photos and drone footage of the Hermitage blessing here:
Photos : https://photos.app.goo.gl/SjjER8N8wMbYavXR7
Drone Footage : https://www.youtube.com/playlist?list=PLoBVE67dzn9jjQ5ntrE1Hs6Hgx8zj9DEL