In July 2018, seven monks of Ananda Sangha India will be shifting from various apartment flats in Pune city into two bungalows in Khandala, Maharashtra. They will be directed by Nayaswami Devarshi, who has been serving Ananda Sangha for over 40 years.
Swami Kriyanandaji, founder of Ananda Sangha, long had a vision of a proper monastery for his monks. His ideal included a separate place where Ananda monks could live, meditate, and serve together every day. Many of the features that Swamiji wanted have been impossible to fulfill while being part of a very active Ananda Centre and community, such as we have in Pune and other Indian cities.
Swamiji especially wanted to support monks in having a strong inner life, and proper monastic training for at least the first three years of a monk's life. His ideals included the following:
Several hours of meditation every day
Meals in silence, and other times in silence
Study of the teachings every day
Two group meditations every day, attended by all monks
A very strong and active seva (service), supported by this inner life
His description of a monastery as a "hermitage" described both a vibration and a physical place where the monks would live and serve together. This is the first Ananda Monastery that fulfills so many of Swamiji's ideals.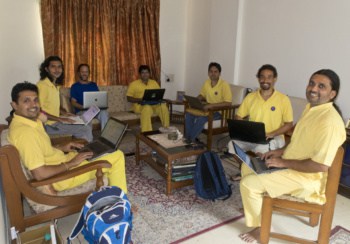 The monks will continue to serve Ananda Sangha actively and dynamically. During the week the main seva will be the expansion of the Kriya Yoga Home Study Course and Online Classes. The potential for new Kriya students all over India is vast. It's hard to underestimate the importance of this, and our ability to now focus effectively in this seva, every day. Our main area of outreach during the week will thus be all over India.
On weekends, we will be traveling to Mumbai and Pune mostly, along with other Ananda centres.
Your support in the formation of this new Ananda Monastery is very much appreciated!
The Ananda Monastic Order
The Ananda Monastic Order is the monks and nuns of Ananda Sangha, who have renounced worldly life and dedicated their lives wholly to seeking and serving God. They live the teachings of Paramhansa Yogananda as a means of fulfilling the final goal of all souls: divine freedom or moksha.
Without marriage and family duties, Ananda monastics can be more fully dedicated to a life of meditation and sadhana, or daily spiritual practice. As part of their sadhana, they actively serve in helping to spread the teachings of Paramhansa Yogananda, through Ananda Sangha, founded by Yogananda's direct disciple, Swami Kriyananda. Ananda Sangha was founded in 1968. The Ananda Monastic Order was created in 1971.
Paramhansa Yogananda taught a more inner and positive form of renunciation than is taught traditionally. True freedom comes from ego-transcendence, gained by giving everything as an offering to God—as compared to a more traditional following of an outward list of rules prescribing the many things one should and shouldn't do.
The vows of Ananda monastics are three in number: simplicity, brahmacharya (control of the senses), and cooperative obedience.
If you are interested in becoming a brahmachari monk of the Ananda Monastery, please email devarshi@anandaindia.org