The Ananda Monastic Order is the monks and nuns of Ananda Sangha, who have renounced worldly life and dedicated their lives wholly to seeking and serving God. They live the teachings of Paramhansa Yogananda as a means of fulfilling the final goal of all souls: divine freedom or moksha.
Without marriage and family duties, Ananda monastics can be more fully dedicated to a life of meditation and sadhana, or daily spiritual practice. As part of their sadhana, they actively serve in helping to spread the teachings of Paramhansa Yogananda, through Ananda Sangha, founded by Yogananda's direct disciple, Swami Kriyananda. Ananda Sangha was founded in 1968. The Ananda Monastic Order was created in 1971.
Paramhansa Yogananda taught a more inner and positive form of renunciation than is taught traditionally. True freedom comes from ego-transcendence, gained by giving everything as an offering to God—as compared to a more traditional following of an outward list of rules prescribing the many things one should and shouldn't do.
The vows of Ananda monastics are three in number: simplicity, brahmacharya (control of the senses), and cooperative obedience.
SEPTEMBER 2018 NEWS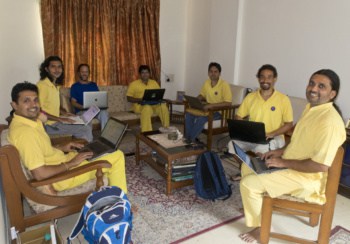 It's been barely two months since we launched the new Ananda Khandala Monastery. We would like to express our deepest gratitude to all of you who have supported us, with your prayers and donations!
As you know, we made this move to try and fulfill a long-held dream of Swami Kriyanandaji, "when the timing is right." He wanted a monastery where: monks have a very strong and focused seva every day, with other monks; three group meditations every day; support for an inner life that includes meals in silence and other practices; proper training and classes for monks in ego-renunciation, right attitude, attunement, and more.
In every direction that we take, we try to ask the question, "What does Swamiji want?" I've always seen this as his monastery.
Even though I had high hopes and expectations, our new monastery has exceeded both my expectations and hopes. There has been such a high degree of harmony, cooperation, deep meditation, devotion, joy, and focused seva, that I have been quite happily surprised. I am sure that Swamiji is very pleased with this big step forward, one that serves all of Ananda.
We would not have been able to make this shift without the generous support of our friends — Thank You!
Seven of us now live in two row houses in Khandala. One house has our temple (and soon-to-be vegetable gardens), the other has our office, dining room, and main kitchen.
Some of the highlights of the first two months: ….
Read Full Letter