With joyful hearts, we invite you to the 20th celebrations of Ananda India. The weekend will be a time of deep inspiration, divine joy, and fun-filled celebrations. We will honor the inspiration & legacy of Swami Kriyananda, the loving services and guiding lights of our divine friends from all over the world, and look to the future together.
This is a FREE event for all. We request you to take a few moments to register here. Your registration will help us plan for the event.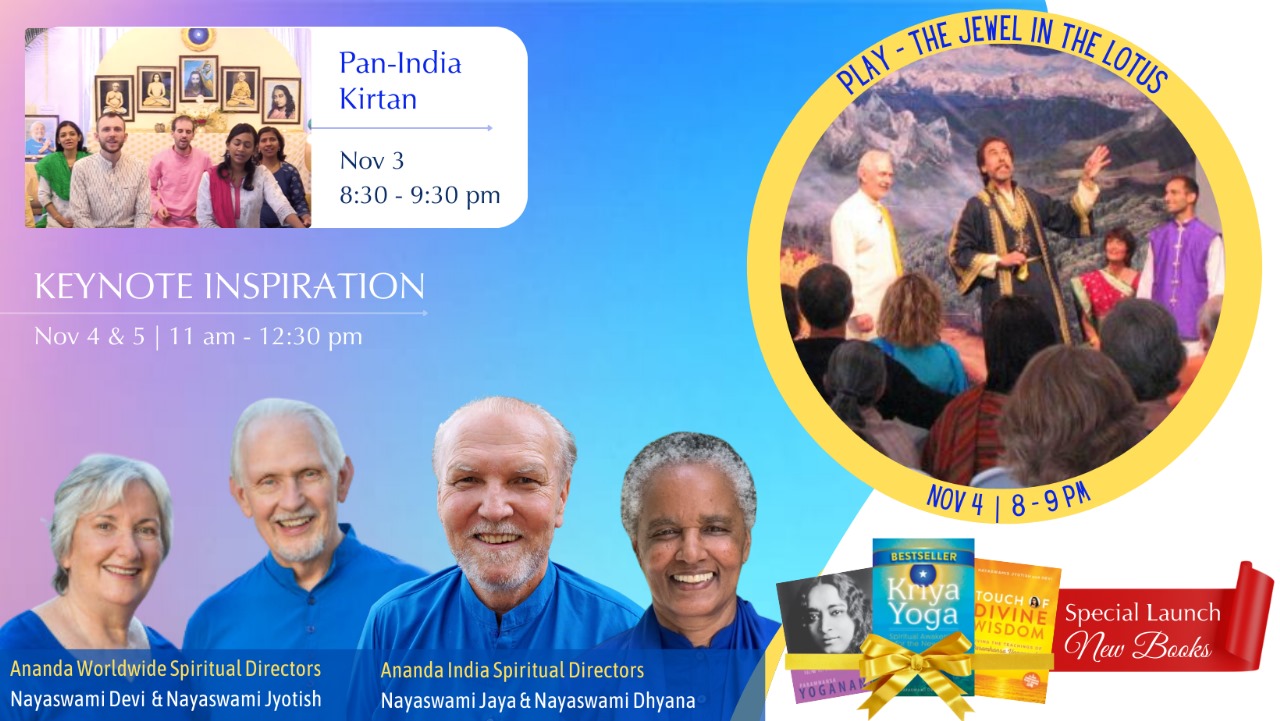 FREQUENTLY ASKED QUESTIONS
Who can come?
We look forward to seeing our Ananda Gurubhais from around the world, either in-person or online.
Where is the program being held?
"The program will be held at Ananda Sangha Pune's new center at the following address:
Ananda Sangha Pune, 17A Yashwant Nagar, Range Hills Road, Pune 411007″
Is there a fee to attending the event?
This is a FREE celebratory event for all. If you feel inspired, you may leave a <donation/> to support the event.
What does the food cost?
The food will be lovingly cooked and served by Ananda devotees. You are most welcome to offer a <donation/>, if you feel inspired.
Where can I stay?
We have 4 housing options for you.
NAME
DETAILS

Kasturkunj AirBNB

Address: 10 Kasturkunj, ICS Colony, Bhosalenagar, Pune 411007
Contact: +91 9420481934 [Divya Rawat]
Distance: 750 Meters; 10 Mns Walking
How to Book: You may submit your details to Divya and she will facilitate the booking on your behalf as the Society accepts only organizational bookings, not individual bookings.

9 Rooms on sharing basis (18 ppl can stay): Rs. 1770/day (GST Extra)
1 Room for 4 people): Rs. 2360/day (GST Extra)

The Pride Hotel

Address: The Pride Hotel, 5, University Rd, Narveer Tanaji Wadi, Shivajinagar, Pune 411005
Contact: 020 6647 1471
Distance: 3 Kms; 9 Mns Drive
How to Book: Book individually with the hotel.
Deluxe Room: Single: Rs. 5000 | Double: Rs. 6000 (GST Extra)

The Fern

Address: Level 5 No, 132 A, University Rd, Premnagar, Ganeshkhind, Pune, 411016
Contact: 020 6604 4100
Distance: 450 Meters; 6 Mns Walk
How to Book: Book individually with the hotel.
Deluxe Room: Single: Rs. 5000 | Double: Rs. 6000 (GST Extra)

YASHADA

Address: Rajbhavan Complex, Raj Bhavan Complex, Baner Road, Armament Colony, Ganeshkhind, 12/1/2/46, Baner Rd, Raj Bhavan Ganesh Khind, Pune University, Pune, Maharashtra 411007
Contact: Divya Rawat @ +91 9420481934
Distance: 4.9 Kms; 14 Mns Drive
How to Book: You may submit your details to Divya and she will facilitate the booking on your behalf as YASHADA accepts only organizational bookings, not individual bookings.

Deluxe Room: Single: Rs. 3500 | Double: Rs. 4400 (GST Extra)