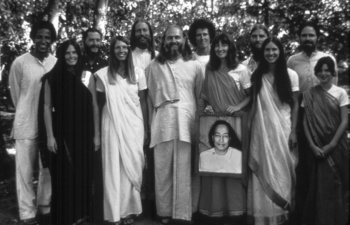 Ananda Sangha means "fellowship of divine joy." We are a worldwide group of individuals who share the search for higher consciousness and the ideal of service to others by following the teachings of Paramhansa Yogananda. These teachings emphasize "Self-realisation" as direct inner experience of God. Non-sectarian, they are based on India's timeless universal truths and offer practical solutions to the challenges of modern life.
Ananda was founded in 1968 by Swami Kriyananda, a direct disciple of Paramhansa Yogananda. Ananda is head-quatered at Nevada City, California. Over the last few decades, Ananda has communities across three continents, spreading the teachings of self-realization as taught by Paramhansa Yogananda. Ananda has seven spiritual communities world-wide, hundreds of meditation groups and thousands practising these teachings and experiencing a transformed meaningful life.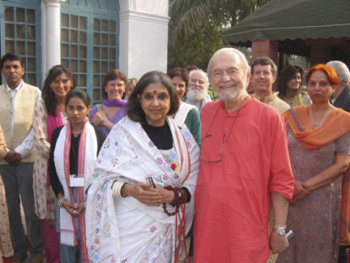 Ananda Sangha India
Every Indian is familiar with the basic truths of Paramhansa Yogananda's teaching. Still, his message of Self-realisation and Kriya Yoga is a new expression of these truths. It is a spiritual revolution for India just as in the West.
"There are so many receptive souls in India", Swami Kriyananda said, "that in time the work here will dwarf everything else Ananda is doing."
With a small international group of Ananda devotees, he moved to India in 2003, his 78th year, that he might dedicate his remaining life to make his guru's teachings better known in the land of his birth.
Soon after, Swami Kriyananda began a nightly TV show, A Way to Awakening (AASTHA), reaching millions in India as well as many nearby southeastern Asian countries and the USA. Ananda Sangha Publications was set up to print and distribute many of Yogananda's and Kriyananda's writings and musical recordings.
Swami Kriyananda's 1st publication in India was a correspondence course, Success and Happiness Through Yoga Principles, on applying dharmic principles to India's rising economic opportunities. It is now also available for group study and corporate seminars, and in both print and audio format. In turn came several more books, including what is often considered his crowning achievement, The Essence of the Bhagavad Gita.
The main work of Ananda Sangha India is presenting the teachings of Self-realisation through classes and satsangs. These are held weekly at our meditation centres throughout India. Advanced students in all localities can prepare for Kriya Yoga and receive it locally or at the closest centre.