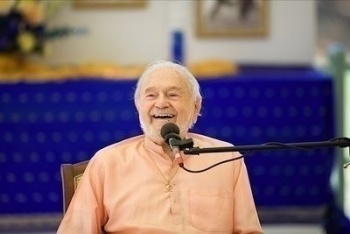 How to be an Inspiring Teacher Parts One and Two – direct communication with your audience, be it a group or an individual, will be especially effective if you communicate from your own experience, inspiration and enthusiasm.
Kriyananda explains how to impart thoughts in writing – clearly, while making them fun and enjoyable to read.
The most important thing you can give people when speaking is your vibrations.
This talk is not only very helpful for teachers, but for everyone who wishes to communicate directly and powerfully.
Kriyananda thoroughly explains how to find your inspiration deep within and how to impart that inspiration to others.
Part Two
Kriyananda explains the subtle points of effective teaching. One point is to "give people what they need to hear, not what you need to say. Give them what they are ready for, rather than what you are ready for."
Approach people with compassion and most importantly – respect. Your job as a teacher or a friend is to help people realize how great they are and what potential they have.
Try to think in longer rhythms. People learn better if you don't present too many things at once. They need time to absorb and understand. Give them time and perhaps introduce the subject again later.