Learn to Meditate (Online Class) English / हिन्दी
The Path of Kriya Yoga: Level 1
Learn a simple, yet powerful technique of meditation.
In this class you will learn how to:
Relax, concentrate, and energize the body and mind
Feel happier, more relaxed and at peace with yourself
Improve your health, mental clarity and vitality
Build inner strength for difficult times
Stay calm and release stress & fear
Time & Date:
5 – 7.30 pm, Saturday, 07 August (In English)
OR
10 am -12.30 pm, Sunday, 08 August (In English)
OR
10 am-12.30 pm, रविवार, 15 अगस्त (हिन्दी में)
(attend any one day. All are same classes)
Fee: Rs 400 (includes soft copy of handout)

Call: 9023863562
Limited seats. Max 20 participants
After registration you will receive link and details to join the class. Class will be on Zoom platform.

Note: This is First Step on the path of Kriya Yoga. After Completing this step you will receive details for the next steps if you are interested. You can also call or Whatsapp us to know details.
Register for English Class
Register for Hindi Class
Group Meditation
(On Zoom Meeting)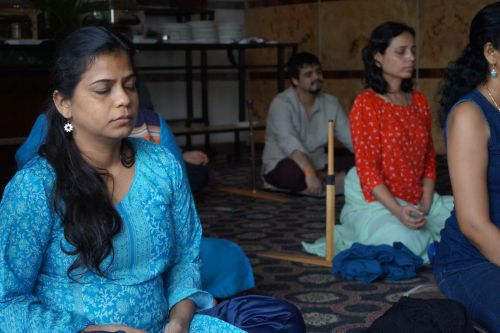 Wednesday Morning, 7-8 am
Thursday Evening, 7-7.30 pm
Saturday Evening, 7-7.30 pm
(Feel free to join anytime and leave anytime)
If you have learned meditation from us, now you can join us for evening group meditation.
Often its hard to meditate at home with so many distractions. Our center can provide a space free from these distractions and can also provide a group support since its difficult to meditate alone many times.
Yogananda ji writes: "Individual and group meditation both are necessary. The former recharges the Soul with God; the latter recharges the mind with the good vibrations of the Spiritual convictions of other Souls. The energy of a group meditation often helps you to meditate longer than you would ordinarily be able to on your own."
Link: Please contact us to get the zoom link.
Call: 9023863562
All the students who have taken classes from us are welcome. Free of Charge.
Note: This is not a meditation learning class and meditation is not guided. Its only a practice session.
Deepening Meditation & Raja Yoga (Online)
For those who have completed the How to Meditate class, this second step has 6 classes to help you practice the techniques more regularly and deeply. In this series we will cover:
~ Principles of Energy, Will & Magnetism
~ Ashtanga Yoga & Yamas and Niyamas
~ Different states of mind
~ Bringing positive changes in life
~ Overcoming habits, Affirmations
~ Applying Yoga Principles in Daily Life
~ Mapping your Spiritual Progress

Dates:  Sundays: commencing in June

Time: 8-10 am

Fee: Rs 1600 (includes course handouts)

If you miss a class in this series, you can cover it when we offer it next time. Classes are not linked with each other.
Please contact Us
Sunday Satsang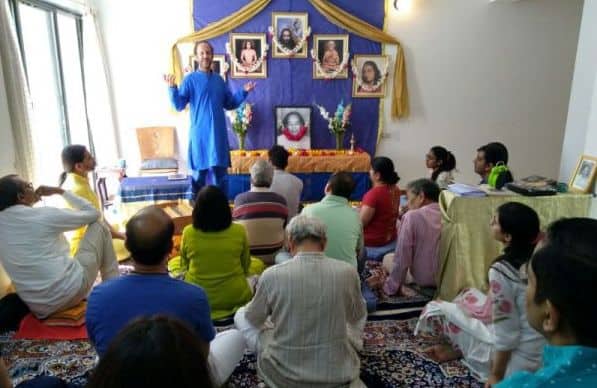 10.30-11.30 am
Join us for Chanting, meditation, affirmation and inspirational discussion.
Link: https://www.facebook.com/ananda.ahmedabad/live/
All are Welcome
Contact Information
Address:
C-403, Sharanam Apartments 3,
Prahladnagar, Opp Titanium City Center Mall.
Tel: 9023863562
Email: ahmedabad@anandaindia.org
Ahmedabad Newsletter Sign Up