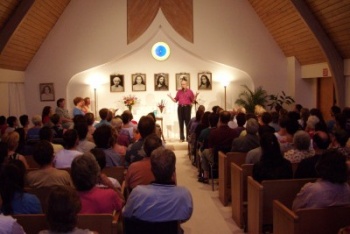 Master's Birthday Service – Yogananda had the gift of making things simple and clear, even though the concepts may be profound. He gave hope to all that we can understand deep teachings, no matter how complex.
Kriyananda giving a Sunday service in celebration of Yogananda's Birthday 1987.
Nayaswami's Jyotish and Devi read the Sunday readings.
A fundamental thing Yogananda brought to world was presenting the deeper meaning of Bible & Bhagavad Gita. He said these two scriptures come from the same level of truth  and insight.
In 1987 Kriyananda was writing commentaries on parallel passages in the Bible and Bhagavad Gita. The current title of this work: Rays of the One Light.
Yogananda said that you don't lose anything when you find God. When you merge with God you remember who you were in past incarnations. Individually is not lost, when you merge with God.
Kriyananda speaks of finding the presence of God in silence, and also mentions that the poem Samadhi refers to this silence within each one of us."Now the time has come for us to reclaim our own divinity. Master came, Christ came, that we might become like them."