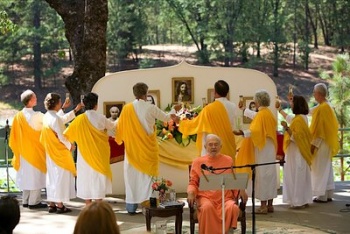 Building Spiritual Power Against Troubled Times – stay calm and centered in yourself
The best way to remain centered is to meditate deeply and act from a sense of confidence in God's grace.
Kriyananda tells stories of how saints can withstand any circumstance.
We are all saints in the making!
We can develop strength in three ways:
1. Maintain the attitude that no matter what happens, our higher self not touched.
2. God doesn't want us to suffer. Try to reach a deep level of strength and wisdom inwardly and attribute lessons and trials to spiritual growth.
3. Even if we lose something, think positively how to recreate it or, how we can transform feelings of grief or fear into acceptance. Focus on prayer and ways to bless others.
One of the greatest scriptures in the world is the Bhagavad Gita. The story is set on a battlefield. The meaning is to show that life is a battlefield, and that we must fight. We need to transcend and overcome negativity and darkness to become victorious. We must fight with truth and love.
There are many Treasures talks with this same title. We have done our best to list the date of each talk so you can tell them apart.