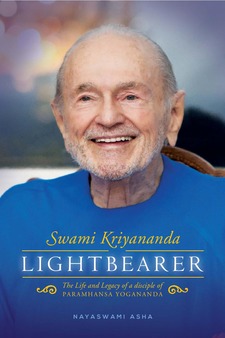 Lightbearer is a first-hand account of life with Swami Kriyananda and is more than a biography. It's a guidebook for spiritual living, a path of light that all may follow. And it's a labor of love by Asha Nayaswami that has been 44 years in the making.
The book gives you words and photos. The Lightbearer Audio Companion from Treasures Along the Path gives you the sound of Kriyananda's voice, his thoughts and spirit as he was at that time, chapter by chapter, year by year.
We have selected talks, classes and informal gatherings from thousands of audio recordings. Kriyananda traveled widely and addressed people differently in each place and time.
The Treasures Along the Path archive MP3 talks represent the years that correspond with Lightbearer chapters 1972 – 2013. The collection contains 65 audios. You will find talks already offered by Treasures and some new archive releases.
When Swami Kriyananda gave classes and events in the later years before his passing in 2013, the recording venue was mostly video. Videos included in this collection have been converted to MP3.
You can receive the MP3s
From this website – $25 – downloadable links appear in your shopping cart after making a donation
OneDrive (Cloud) link – This link will allow you to play and download the talks from a "Cloud" drive. This option requires an internet connection to play the talks.
We have done our best to collect talks that have relatively clear recordings. Some talks may have low, but still audible volume.