Self-Awareness and Personal Growth
Have you ever looked at your life and extracted lessons or guidance you recieved during the day? When we examine our lives more deeply on an everyday basis, there is a lot more we can learn about ourselves. This also helps us achieve our potential. Paramhansa Yogananda highly recommends this practice. He said, "You should record your thoughts and aspirations daily." 
We can accomplish much more on the spiritual path when we focus our energy in a systematic way. The practice of keeping a journal can help us to watch our lives more consciously, carefully, and deliberately.
This course gives you a deeper understanding of Spiritual Journaling, through classes, handouts, and many experiential exercises. Add to your current practice, or begin afresh with the power of keeping a journal.
"In true self-analysis, is, the greatest art of progress."- Paramhansa Yogananda
Writing about the day's tests and lessons helps clear our mental state. This process also helps resolve experiences, ridding the mind of restlessness and worry. Yogananda said that one of the most effective ways to develop will power is to engage in creative writing everyday.
The purpose of this course is to help us work with ourselves in ways to heal every part of our life. To learn the lessons of life we need to integrate not only the glorious moments, but also the wounds. This course is structured into 4 units of: goal-setting, energy work to build a foundation, deeper contemplation to live a more examined life and self-healing to bring all the elements together! This is a journey deep within to achieve your full potential.
Enjoy 23 videos sharing concepts and instruction including guided techniques to practice daily, in addition to bonus content!
Highlights of this course:
Learn Paramhansa Yogananda's teachings on the Art of Spiritual Journaling
Align yourself to your higher purpose and consciously take actions
Cleansing the burden of life's less perfect relationships and emotions
Grow enthusiasm to steer your life purposefully and see situations more clearly
Take yourself (egoic self) less seriously and find peace within
Learn from your own life as a teacher by observing patterns of behaviour and actions
"Find out what you are—not what you imagine yourself to be—because you want to make yourself what you ought to be." - Paramhansa Yogananda
COURSE OUTLINE:
Introduction
- What is Journaling, the basics of why and how to journal
Unit 1: Self-Work
- Keys to observing and working on ourselves
- Goal-setting for the direction we would like to go
Unit 2: Energy Work
- Working with our energy
- Building a foundation
Unit 3: Contemplation
- Tools for Deeper contemplation
- How to live a more examined life
Unit 4: Self-Healing
- Self-Healing
- Integrating all the elements
Register for this course, "The Art of Spiritual Journaling"
= Rs. 1800
[Thank you! The proceeds will help fund our outreach and inspiration efforts].
You can take this course at your own pace starting immediately when you sign up in your private account at Ananda India Online.
Secure Checkout Login Access the Course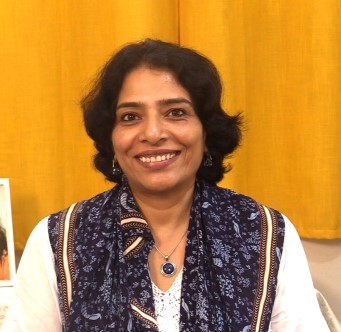 Latha Gupta
Latha Gupta is the Director of the Ananda Yoga School of India and an experienced Yoga and Meditation teacher. She is passionate about inspiring her students to deepen their practice and learn yoga in a safe and enjoyable way. As a Yoga Alliance certified Ananda Yoga teacher and a certified Coach from the International Coach federation (ICF) she brings in an encouraging and practical approach. Latha has over two decades of experience in Leadership Development and has conducted several Executive Development Programs internationally.
"At the end of each day you should sit down for a few minutes and review the day." Say to yourself, "In the battlefield of today's life, who won—my good or my negative tendencies? What have I learned? What have I seen? Am I more joyful today than I was yesterday? If not, what can I do to change that?" Paramhansa Yogananda
How to Get the Most Out of this Course:
This course was designed to help every student discover a deeper practice of journaling. Here are some guidelines to help you benefit most deeply from this course:
Participate fully.
Every section has experiential elements, some of them of differing durations. Take your time with these, work on it dring the week and, try to absorb deeper in your inner self before moving on.
Practice consciously.
Try to observe lessons and discoveries from the day and witness the rippling effects the practice of journaling has in your life.
Be open.
Try to participate in this course with an open mind, and more importantly, with an open heart. The insights we gain about ourselves can be doorways to deep inspiration.
Ask questions.
This course is meant to spark your own curiosity and awareness of the energies of life. If you have any questions, please ask them publicly or in a private message to the instructor. Group discussions help everyone take their understanding deeper.
Testimonials:
"The most powerful effect that I noticed was that writing about the day's tests and lessons cleared my mental state. I found myself going into meditation with a clear mind, free of the restlessness that is born of unresolved experiences." - P. N.
"The practice of daily introspection and journal writing helped me formally recognize and analyze life's lessons." - R. S.