Filled with priceless wisdom, deeply inspiring stories and practical advice to live up to our highest potential, these lessons are true pearls for every sincere spiritual seeker on the way to liberation. This course, written down by Swami Kriyananda, contains 26 lessons divided two parts:
Yoga Techniques for Daily Life
Yoga Techniques for Meditation
Swami Kriyananda About the Lessons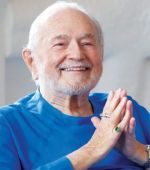 "I am eager for everyone to read these lessons. They represent the culmination of my 63 years of writing and teaching – a labor my Guru assigned to me. So eager am I to share these lessons, in fact, that I want to send them out on a donation basis so that as many people as possible may receive them. I am also trying, however, to establish Master's work in India. I will be grateful if you, too, are generous with your donations.
"I have no personal interest in sharing the lessons. I have never taken royalties for any of my books or recordings. My whole life has been an offering of joyful service-not only to my Guru, but to all who have received his teachings through me."
– Swami Kriyananda
This course is offered on a variable pricing basis, with a minimum of Rs. 500.
Thank you! The proceeds will help fund our outreach and inspiration efforts