The planets are an actual influence on our lives, and each of them have certain characteristics, and even if you don't know the name of the planet their archetypal energy exists and flows through your life. Astrology is a convenient way to learn about these energies.
The planets of astrology seem vast, undefinable, and distant realities, but that couldn't be further from the truth. The planets are reflections of energetic realities within us, the chakras, and as such can be discovered, and uplifted, through inner awareness.
Through lecture, and many experiential exercises including mantras, affirmations, prayer, music, pranayama, and meditation, this course will introduce you to each of the planets and teach you how to receive them at their highest potential.
No prior understanding of astrology is needed.
Who hasn't heard of the depressing qualities of Saturn, or the destructive tendencies of Mars? But how many know that through right attitudes and spiritual practices, Saturn can become the very King of Peace in our lives, and Mars a dynamic hero? Just as a painter uses many hues when creating a work of art, so God uses the different planetary rays to create all the variety of life.
Each one of us contains within us all the planets. Through this course you will gain greater insight into yourself, your own energetic tendencies, and universal flows of consciousness as represented by the nine great planets of astrology. The purpose of this course is to impart a tangible experience of the planetary influences. Just as a painter uses different hues in his painting, so God uses the various rays of cosmic manifestation to create life. As Yogananda said, "Awareness precedes control." Through conscious and aware cooperation with the planetary rays, we can learn to receive them in their highest manifestation; as vehicles for Divine Grace.
Enjoy 46 videos sharing concepts or instruction including guided techniques and tips to practice daily in addition to bonus content!
Highlights of this course:
Learn Paramhansa Yogananda's teachings on the art and science of astrology for Spiritual Awakening
Exploration of each planetary ray
Improving our relationships to the planets
Discovering the planets as a vehicle for self-understanding

Uplifting and purifying the influence of each of the planets, regardless of their placement in your natal horoscope

An emphasis on Spiritualizing Astrology
Deep and inspiring content with handouts and opportunities to ask questions
Q&A sessions with the presenter
Register for this course, "Astrology: An Inner Guide"
= Rs. 2800
[Thank you! The proceeds will help fund our outreach and inspiration efforts].
You can take this course at your own pace starting immediately when you sign up in your private account at Ananda India Online.
Secure Checkout
Login
Access the Course
"While studying astrology in a reasonable way, you must always remember that God's influence is the supreme influence. By communing with God in meditation, you will reinforce the power of the twelve centers in your spine, which will then act in cooperation with the twelve signs and planets."

– Paramhansa Yogananda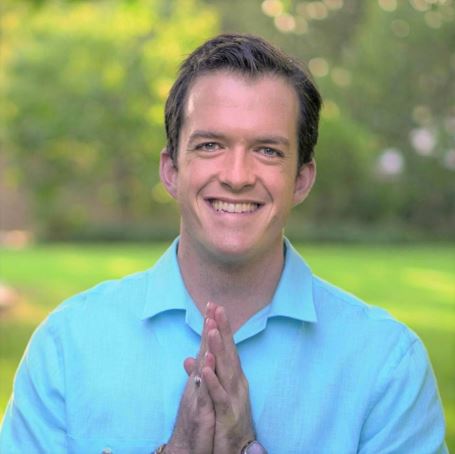 Keshava Betts
Hello, my name is Keshava! I grew up in a family of yogis in the spiritual community, Ananda Village, in Northern California. Immersed in the spiritual wisdom of Yogananda since birth, I became fascinated with astrology before I became a teenager. It was my great good fortune to find my mentor at a very young age, Drupada Macdonald, a long-time astrologer who encouraged me and pointed me towards valuable resources even then.
I began formal study with my mentor, Drupada, in my early twenties. Approaching astrology in the tradition of Swami Kriyananda, and Yogananda, my introduction was primarily an inner one: an exploration of the inner astrology, of which the planets are stars are a reflection. The ancient practice began to reveal itself to me, not as a study of countless esoteric texts, but as an inner experience of universal principles of energy which the planets represent and manifest.
I've been a musician all my life, and have studied the power of music to effect and transform consciousness. You'll see this influence throughout this course, as we use music to help communicate the essence of each planet, as Yogananda called it, "The music of the spheres"!
"Astrology is a very deep subject, but most people consider it to be a kind of superstitious guide to material progress. If you use astrology only for guidance in material matters, you will be doing its teachings an injustice. Astrology is the mathematics of your life, the mathematics of your past actions." Paramhansa Yogananda
How to Get the Most Out of this Course:
This course was designed to help every student discover an inner experience of each of the planets, not merely an intellectual understanding of their basic meanings. Here are some guidelines to help you benefit most deeply from this course:
Participate fully.

Every section has experiential elements, some of them of differing durations. Take your time with these, watch them several times, try to absorb each one in your inner self before moving on.
Practice consciously.
Try to apply what we learn in daily life. Try to digest this course slowly, applying each lesson to your daily routines and witnessing the rippling effects it has in your life.
Be open.
Try to participate in this course with an open mind, and more importantly, with an open heart. The planets are conscious rays of energy, and if we approach them sensitively, they can be doorways to deep inspiration.
Ask questions.
This course is meant to spark your own curiosity and awareness of the energies of life. If you have any questions, please ask them publicly or in a private message to the instructor. Group discussions help everyone take their understanding deeper.
Frequently Asked Questions:
1) I've always thought astrology to be rather superstitious, how does this coincide with the practical approach of yoga?
Astrology shows a map of your past karma, and therefore the likely outcome of future events, if we remain passive participants in our life's journey. The true use of astrology is to help deliver into your hands helpful tools to overcome your past karma and win ever greater freedom and happiness. If, however, astrology is practiced with a less evolved attitude, or by those who lack the interest to take an active role in their own lives, it can slip into simply trying to predict auspicious or inauspicious events, which can easily become superstitious. Yogananda encouraged us not to be a slave to the birth chart, but rather to try to overcome its limitations by intelligent self effort and the grace of God.
2) I've never studied astrology before. Is this a course for me?
Definitely. This course was designed to offer an introduction to those with no prior experience to astrology, as well as provide inspiration and practical yogic tools to those who may have some prior experience. Fundamentally this course is an inward journey, into deeper self awareness of the energies which already exist within you.
3) Will this course tell me what planets are auspicious for me and what gemstones I should wear?
No. This course will not explore your individual horoscope. But, every planet has a divine quality which we can tune into and draw blessings from. If you are interested in learning more about the planets in your individual life, or which planets to strengthen more than others, contact an astrologer for a private consultation.
4) I don't know my horoscope, or my birth time, can I still benefit from this course?
Absolutely. This course covers the universal elements of every horoscope; the planets. Every one of us can benefit from learning more about the essential qualities of each of the nine planets. Where they fall in our horoscopes helps clarify where and how that ray is manifested in our lives, but the essential quality remains the same. This course will also help you to uplift and purify the influence of each of the planets, regardless of their placement in your natal horoscope.
Testimonials:
"For the first time in my entire life, I felt someone really, truly understood and saw who I am from this beautiful divine perspective. He seems to be able to peer into the deepest soul issues and struggles and present them in a way that is validating, honest, instructive, accepting and positive. This perspective allows you to understand why your life has unfolded the way it has, how to view your present situation and what strengths you can draw upon to surmount your difficulties. He draws upon a wealth of knowledge about astrology and a profound intuition to connect with you." – Marie H. Sacramento, CA
"I had very little to no background in Astrology, and had a wonderful experience with Keshava. During my reading I found surprisingly accurate parallels to my past and present, which also left with a clear intuition about the future. I would recommend working with Keshava to anyone who is curious or interested, his readings are clear and insightful." – Bruno P., Palo Alto
"Keshava is an adept astrologer. He has studied astrology for many years and has an instinctual understanding of the ways that the stars and planets communicate with us. His skill as a reader allows him to marry his 'knowledge of the stars' with his keen intuition and his deep passion for astrology, providing clients a unique, perceptive, and informative reading. I highly recommend a reading by Keshava; through his insights, I was given more than simply a review of my astrological chart–I was gifted with the opportunity to use my astrological chart as a tool for deeper self-exploration and growth." – Katelyn L. , Mountain View
"Keshava's depth of understanding in Vedic Astrology was impressive. He beautifully expressed through his words and presence that our horoscopes were not a bondage of our souls but a map to the potential that resides in each one of us. He connected me to the deeper meanings of my soul's journey and unlocked gifts and talents that I had not been recognized before. His gentle approach to suggesting areas that may require further refinement and providing practical tools to help with this was extremely helpful. These tools have already made a profound difference in my life. Thank you Keshava for your beautiful energy, I am grateful for all that you have given me." – Serena C., New Zealand
"I highly recommend Keshava for an astrology reading that will provide you with deep insight into not only your personality, but also the longer rhythm of your soul's journey. A Vedic astrologer, Keshava draws from a vast body of knowledge. As an ardent and dedicated Yogi, he has trained his intuitive intelligence to draw forth a clear synthesis from this rich field. A gifted communicator, he is able to distill the key life lessons of your chart in a way imparts hope and encouragement." – Dana A. CA
"Keshava Betts is an experienced and knowledgeable astrological reader. His reading accurately described who I am and gave me an understanding of future directions and suggestions for growth. He is an excellent listener who asks meaningful questions. I was particularly impressed with how practical and grounded his approach to astrology is. His "down-to earth," reading has helped me in my everyday life. I highly recommend Keshava Betts." – Kristina S., Palo Alto
"My dearest friend gifted me an astrological reading by Keshava for my birthday this year and it has been such a priceless gift. It was my first ever Astrological reading so I didn't know what to expect. The reading with Keshava was a balm for my soul. Keshava's reading of my astrological chart was such an accurate reflection of the questions I have been grappling with in my life. It was overwhelmingly resonant. It explained many of my struggles and made me more aware and grateful for the many gifts I have. It also gave me valuable insight into the struggles I couldn't make sense of and showed me ways I could live a more harmonious life. I have listened to the reading several times since our conversation together and it continues to make sense and give me further insights." –  Prathama R., Kathmandu, Nepal