Ancient Wisdom Combined With Modern Research
Would you like to live a more radiant and healthy life? Yogananda's teachings on health are fascinating, practical, and help enhance overall vitality. Easy to incorporate into busy lives, these tools yield notable benefits if performed with continued diligence.
This course shares lifestyle tools for physical, energetic, mental, emotional, and spiritual well-being. We will focus on how to be better able to resist disease, stimulate mental vitality and rejuvenate the body and mind.
Enjoy 35 videos sharing concepts or instruction including guided tips to practice daily. You will also receive Hand-outs and log-sheets to track your progress, the opportunity to connect with the instructors at anytime along with an online consultation based on your logbook and progress from suggested practices in the course.
The presenters, Dr. Aditya Gait (MBBS DNB) and Dr. Amit Agarwal (MBBS MD) are not only medically certified doctors, but also meditation teachers and internationally certified yoga teachers. They have been practicing and sharing the teachings of Paramhansa Yogananda in corporates and through special workshop offerings for many years.
Highlights of this course:
Paramhansa Yogananda's teachings on Health
Medical consultation and Q&A sessions with the doctors
Lifestyle tools to transform your health
Tips for physical, mental, emotional & social and spiritual well-being
A log-book to monitor and introspect practice and progress
Handouts with Yogananda's writings on Glowing Health and Vitality
Weekly routines to apply in daily life
What can we do to be healthy besides watching our diet or eating the right food? What are the 'do's and don'ts of proper eating'? What are healthy attitudes to incorporate in life?
"Diseases are born of our ignorance of the laws of the body and mind. Right eating, moderation, and exercise will practically banish disease from the face of the earth."
Paramhansa Yogananda
Register for this course, "5 Weeks to Radiant Health,"
= Rs. 2800

Register
[Thank you! The proceeds will help fund our outreach and inspiration efforts].
You can take this course at your own pace starting immediately when you sign up in your private account at Ananda India Online.
HOW THE COURSE WORKS:

All participants get immediate lifetime access to the course. Access to the next section will open every week (from the time of purchase) with videos, exercises and material related to that topic. After the 3rd week, you will be able to request an online consultation with one of the doctors so that they may guide you more specifically. For queries please contact us at Online@anandaindia.org or +91 9011041946
As you complete the registration and payment, you will receive access to the course, an introduction video and evaluation form to begin with as well as to the first section.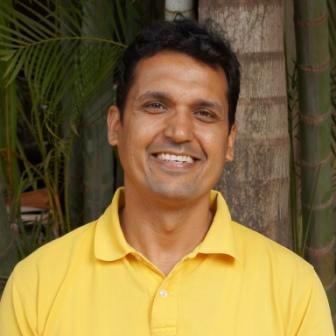 Dr. Aditya Gait
Dr Aditya Gait MBBS DNB(I) is a Medical Doctor and Spiritual Director of Ananda Sangha Pune. He is a Yoga Alliance certified International Yoga and Ananda Healing Teacher. He offers professional advice to Yogananda Charitable Trust. He has conducted workshops on Health, Happiness and Success at various forums in India, Europe and America. He has conducted programs for global industry leaders such as Tata Management and Training Center (TMTC), Infosys, Amdocs, Apollo Hospitals, and Metro.
Dr. Amit Aggarwal
Dr. Amit Aggarwal (MBBS MD) is an allopath physician with over two decades of clinical experience. He is certified Echocardiography specialist from University of Vienna (Austria) and is an ICU Consultant and Faculty at SKN Medical College Pune. He is on panel of consultants at VitaLife group of clinics Pune. He is a Yoga Alliance Certified International Yoga and Ananda Healing Teacher and has conducted workshops on subjects like Stress Management and Science of Mediation at various forums across India. He has to his credit, research papers and publications on Yoga and Medicine in many scientific journals.
Frequently Asked Questions:
1) I have tried so many treatments, if I were to take this course would I feel different right away? Or would I need to practice these teachings for days or weeks to feel the benefit?
Unlike the disease centric approach of conventional medicine, these tools we offer here are health centric, designed to remove blockages in the proper flow of life force in our mind and body. However, ofcourse, please do not expect over night cures and we recommend that no change in your prescribed medicines should be done without the approval of a qualified medical doctor.
With that in mind, we have seen these teachings do start to yield benefits right away for many people. Studies have shown the reversibility in chronic health ailments to varying degrees and a reduction in the dependence of drugs through a continued, diligent practice of these principles shared. That's why it is a journey over 5 weeks where you will be able to track your progress and we will be available to guide participants and help them move forward, answering questions that may arise at any point.
2) What is the best and most spiritual diet one can follow?
According to Yogananda, food should be viewed in terms of life force and energy. Life energy sustains us and is responsible for our well-being. Therefore our diet should include only foods that are easily converted into energy. Also, our thoughts, actions, and health are generally determined by the foods that we eat, so we need to choose foods that are rich in life force, calm our nervous system and help to uplift and expand our consciousness.
Foods that are refined, processed and preserved should be avoided because they have lost their life force. So, gradually eliminating from one's diet overly processed foods and focusing more on foods that are naturally produced will help us feel more alive and well.
The diet that Yogananda recommended for the body includes: fresh fruits and vegetables, whole grains and legumes, nuts, seeds, some dairy products, and spices. This is a diet that help us to live a balanced life, keep our worldly duties, and meditate deeply. Yogananda recommended for a person with good health a diet that includes: 60% fruits and vegetables, 20% protein, and 20% starches and simple carbohydrates. If you are interested, we go through this in much depth over the 5 weeks of this course and invite you to join us on the journey!
3) How does this course work? Are the videos pre-recorded or are there live sessions?
This course is open at certain times in the year, so once you register, you will begin the course on the designated date with others in your batch. The course is pre-recorded and you can watch it easily on your app or in your email. You will have access to new sections of the course per week (as mentioned in the outline) and you will also receive complementary reading materials and handouts, log-sheets to track your progress, as well as tips to practice and implement daily during the week. We will have live sessions with the Doctors, and you may send in your questions at any time if you have any. You will also be able to schedule an Online Consultation session with the doctors once you have completed a few weeks of the course.
Register Now
"Keeping out of the hospital is not health. To be able to resist disease, to bear strain, to stimulate mental vitality, and to feel the body as a luxury– as a bird feels when shooting through the air, and as a child does always — is health." Paramhansa Yogananda