November 15-17, 2019
With Nayaswamis Jyotish and Devi
A Special Weekend Retreat
Immerse yourself in the practical teachings of the Bhagavad Gita, India's most sacred scripture. Bhagavad Gita means "The Song of God" and is the essence of the Vedas. This two day programme led by Nayaswamis Jyotish and Devi, focuses on achieving inner transformation, not just knowledge enrichment. Known for their fresh perspectives and deep insights, they will help us apply and live the teachings of the Gita in daily life.
The programme includes meditation and meditative techniques such as visualizations, introspection, silence and yoga in nature. The fellowship of sincere truth seekers will uplift the vibration of the whole programme.
This all-India programme will also be led by Spiritual Directors of Ananda India, Nayaswamis Jaya and Dhyana, and other Ananda acharyas.
We will be staying at The Dukes Retreat at Khandala, spread across beautifully landscaped gardens with a valley view of mesmerizing Western Ghats.

LAST 20 SEATS REMAINING!!!
 Rates

| | |
| --- | --- |
| Double Occupancy | Rs. 15,000 |
| Single Occupancy | Rs. 26,500 |

Fee for last 20 seats
If you wish double occupancy accommodation and you don't know another devotee, you'll be assigned a roommate if possible. The programme begins at Dukes Retreat after lunch on 15 November, and ends with lunch on 17 November. Check in time is 1 pm. The programme fee includes lodging; and all meals. Not included in the fee are transportation to and from Dukes Retreat; and personal hotel expenses such as room service or laundry or medical expenses should you need it.
A day of inspiration, classes, meditation, yoga & uplifting company from across India. Fee includes all meals and events:
 Rates

| | |
| --- | --- |
| Adults | Rs. 3900 |
| Children (Age 8 -12 yrs) | Rs. 1800 |
Early Bird Discount
Double Occupancy
Rs. 14,000
Single Occupancy
Rs. 25,500
Till 30th September
Regular Rates
Double Occupancy
Rs. 16,000
Single Occupancy
Rs. 27,500
From 1st October onwards
PAYMENTS:
Payments can be made by direct transfer to our account, or via cheque in favour of "Ananda Sangha." Payment via debit or credit card would incur additional payment gateway charges. Your participation is confirmed only when we approve your application and receive full payment. In case of cancellation, Rs. 2,000 is non-refundable. Cancellation close to date of event may incur additional costs.
1:00 pm onwards:
Check-in and lunch on your own, rest and free time.
4:00 pm: Tea
5:00 pm: Meditation
6:00 pm: Class: Introduction to Gita Navaratnas and Inner Conflict with Nayaswamis Jyotish and Devi
7.30 pm: Dinner
9:00 pm: Kirtan with Ananda Monks

Pictures from Our Retreat Last Year:
Last year's retreat with Nayaswami Jyotish and Devi was deeply inspiring and joyful. It was completely full with 160 devotees attending from all over India. Everyone loved the venue Dukes Retreat in Khandala. Some pictures from last year's retreat to give you a glimpse: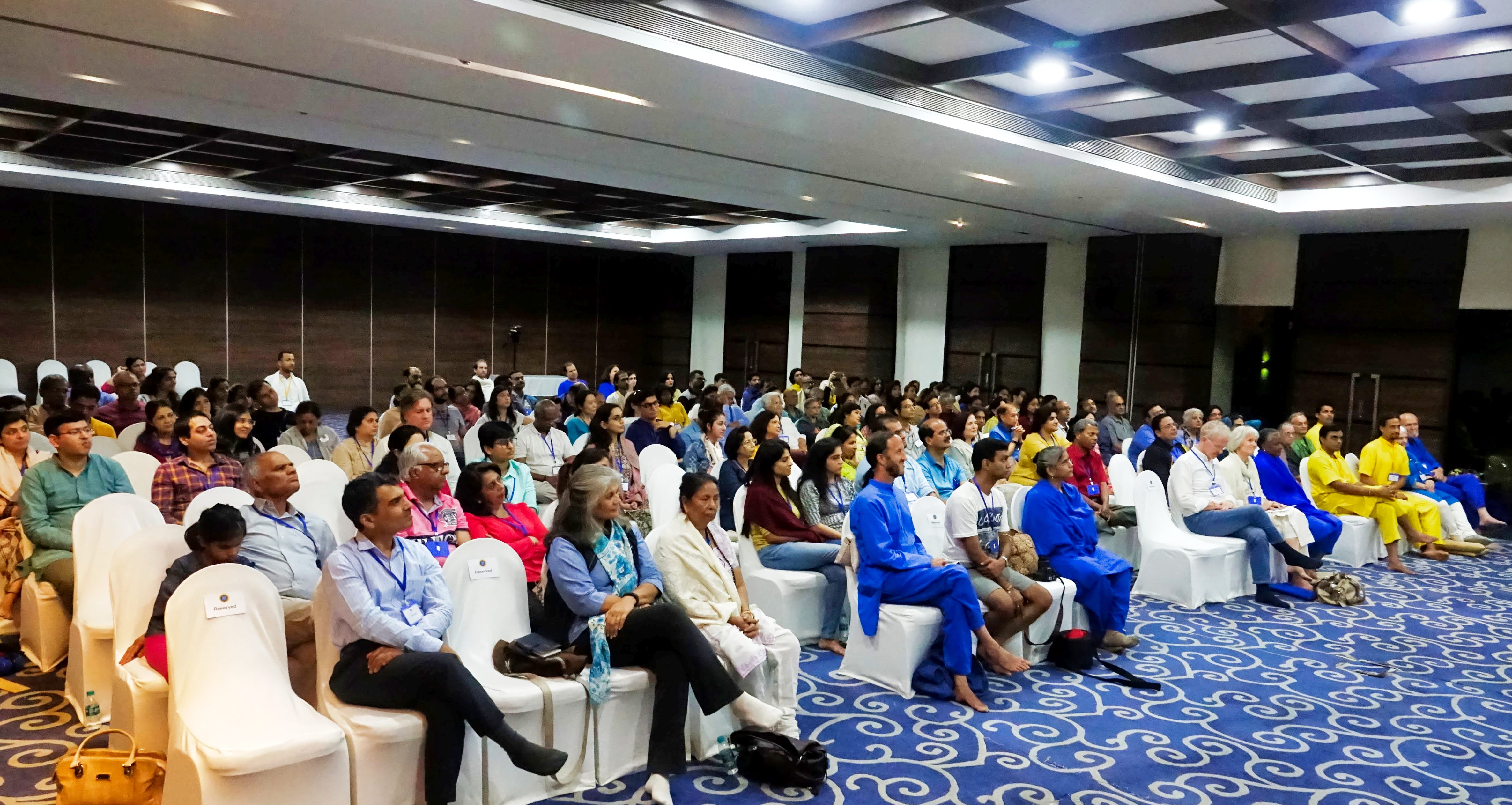 Nayaswamis Jyotish and Devi are dynamic emissaries of Paramhansa Yogananda. They have been practicing the teachings for almost 50 years. They travel the world, sharing Yogananda's teachings, and blessing people with the practical and heart-opening path of Kriya Yoga. Touching each person with spiritual friendship, Jyotish and Devi deliver spiritual insight with joy in people's individual paths. They are Spiritual Directors of Ananda Worldwide.
In November 2017, Jyotish and Devi received Global Peace Ambassador Peace Award from UN for the inspiring ways Ananda brings to life Paramhansa Yogananda's spiritual wisdom.
They offer a rare example of successful spiritual partnership, living yogic values through their marriage, parenting, and organizational leadership. They are authors of several books: How to Meditate, Lessons in Meditation, 30-Day Essentials for Marriage, 30-Day Essentials for Career, Meditation Therapy and companion 3-volume video series. They also write weekly blogs on spiritual subjects which has now been compiled in 2 volume books: Touch of Light, and Touch of Joy. Nayaswami Jyotish is also an accomplished artist and painter.
Nayaswami Jaya
Nayaswami Jaya Helin, became a student of Swami Kriyananda soon after graduating from the University of California, Berkeley in 1968. Upon learning of Swamiji's interest in spiritual communities, Nayaswami Jaya joined him as a founding member of Ananda, and he now travels widely sharing the teachings and techniques of Paramhansa Yogananda throughout India, America and elsewhere.
Nayaswami Dhyana
Nayaswami Dhyana, is co- spiritual director of Ananda Sangha. She started to study the teachings of Paramhansa Yogananda in 1978 and met Swami Kriyananda in 1980. She has shared the teachings of Yogananda in the US, Europe, Africa, Australia and India and helped in the founding of several of Ananda communities and centers. She teaches locally and travels around India offering training in meditation and Raja Yoga.
Nayaswami Devarshi
A long-time Ananda minister, Devarshi is the director of Ananda India's Kriya Yoga Sangha and also head of the Ananda India Monastery. Devarshi speaks from profound understanding and application of the teachings of Paramhansa Yogananda over a lifetime. Devarshi held a position on Swami Kriyananda's personal staff for seven years.
Yoga & Meditation
Enjoy sessions with Internationally Certified Yoga & Meditation Teachers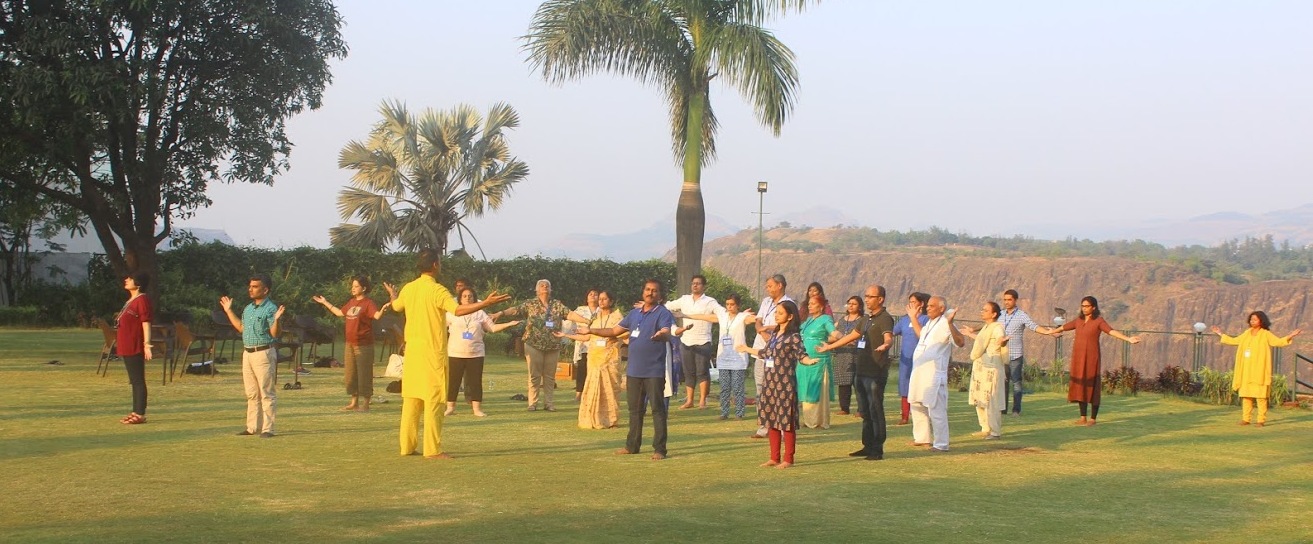 Children's Activities – Happy Inside
Do you have children of age eight and and above? They are more than welcome to join you on this retreat.
Our children's program offers a joyful growth opportunity where children can learn to find their happiness within themselves and share it with all.
Activities include:
Sharing Nature Games
Art & Crafts
Music & Dance
Meditation & Yoga
Writing Poetry
Cooperative Games
The children will learn to connect on a deeper level:
with each other; nurturing new attitudes in playing together
with nature; feeling oneness with their environment
with themselves; discovering their inner qualities
We will focus on how to find happiness inside ourselves. To know the extra cost for children, please contact us.
Contact & Registration
Contact: khandala@anandaindia.org or 85888-34651
Venue: Dukes Retreat, Old Pune Mumbai Highway, Khandala, 410 301. Ph: 02114-269201
Apply Now
How to reach:
You would reach The Dukes Retreat on your own, arriving early afternoon of November 15. Check in time is 1 pm. The closest airports are Pune (75 km, 2 hr drive) and Mumbai (90km, 3 hr drive). For a larger group travelling from the same city bus transportation from airport can be arranged. One can also take train from Pune / Mumbai to Lonavala station. More details on transportation will be shared few days before the program date.