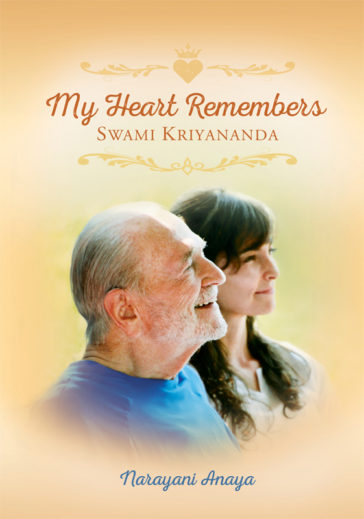 A remarkable story of devotion and attunement between a young devotee and a spiritual master. 
Narayani was 24 when she first met Swami Kriyananda in 2003. He was 77, a global teacher and foremost disciple of Paramhansa Yogananda. Recognition was immediate. Her heart declared, "My King!" He said, "She seems like a daughter to me." Soon she began following Swami around the world — India, America, Europe. In 2010 he asked her to become his personal assistant and caregiver. Since that day on, and literally, until his last breath, Narayani was always by his side. Decades of spiritual training were compressed into a few short years, preparing her to carry his spirit and message of Self-realization to her generation of seekers, and to all who would know God.
*               *               *               *               *             *               *
Following a year in seclusion, Narayani and Shurjo have returned to India with her new book, My Heart Remembers Swami Kriyananda.
Join them for special satsangs at different Ananda Centers, where Shurjo and Narayani will be sharing stories of their time with Swami Kriyananda, one of the greatest spiritual teachers of our times. The satsangs will be followed by a book signing. Don't miss out this unique opportunity to pick up your signed copy! See Book Release Tour on right side.
Testimonials
"I knew Swami Kriyananda for more than 40 years. In the last years of his life, I could not tune into his consciousness without also feeling the spirit of Narayani, so completely had she surrounded Swamiji with her aura of loving care. Her spirit blended perfectly with his. This book is a spiritual classic. As the title says, right from the heart."
—Asha Nayaswami, Speaker and Author
 *               *               *  
"Every page of this beautiful and unique account moved me deeply. Having had the privilege of being with Swami Kriyananda on many occasions, I can say with all certainty that this book describes his consciousness perfectly.
"My heartiest congratulations to Narayani!"
—DR.Kaarthikeyan, Former Director CBI, DG-NHRC.
 *               *               *  
"Narayani's story reaffirms my faith in the Grand Overall Design which brings people together – across continents – like well fitting pieces of a jigsaw puzzle. Written in a lucid, free flowing manner, the book makes a compelling read, and leaves the reader hungry for more. I simply loved it."
—Chitra Jha, Author and Life Coach
  *               *               * 
"A tremendous swell of love pours from these pages. The divine mystery of our faith, grace and truest purpose in this lifetime is distilled here, in your living journey with Swami!"
—Elisabeth Rohm, Actress and Author
  *               *               *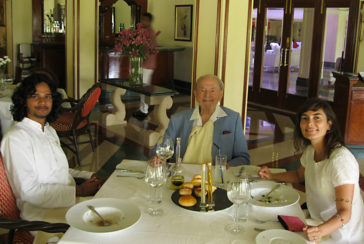 "Narayani Anaya's My Heart Remembers Swami Kriyananda is an ode of love and appreciation from a devoted student to her spiritual mentor. For someone like me who knew Swami Kriyananda for many years, but never spent much time with him, Narayani's memoir is a precious gift. Her book whisks you magically into Kriyananda's home. With her you are seated at his feet, taking in his words of wisdom, wonderstruck by instances of profound enlightenment, and basking in the radiant light of God that shone from his being. Watch as a shy young woman is transformed by slow degrees, within a decade's time, into an instrument of light to the world. I highly recommend My Heart Remembers."
—Richard Dayanand Salva, author of Stories of Swamiji: Experiences with Swami Kriyananda, a Great Modern Saint and Direct Disciple of Paramhansa Yogananda
 *               *               * 
"I dwell in a make-believe world of shadows that I pretend to bring to life. Narayani, on the other hand, swims in oceans of love and is washed ashore time after time in cycles of rebirth that brings her a fulfilment that only very few special aatmans have the good fortune to live and experience.  In this marvellous little book she has written, Narayani entices you to swim with her and share in her joys and happiness but at the end we are left lost at sea, in awe of a girl who dropped in to inhabit our shores and brought comfort and peace to those who needed her most. "My Heart Remembers" is an endearing, unashamed and humble testimony to love and worship of a "King"."
—Victor Banerjee, Actor
 *               *               * 
"This book is a beautiful gift of love to Swami Kriyananda and to all of its readers. Through the clear window of an open heart, it offers a personal glimpse of the last years of Swamiji's life."
—Nayaswami Devi, Spiritual Codirector, Ananda Worldwide, Author
 *               *               *  
"This precious book made me alternate between laughter and tears. I think nobody can convey the heart and soul of Swami Kriyananda as Narayani can. He comes alive in these pages, just as he was: a humble saint, a noble king, a divine friend for all."
—Jayadev Jaerschky, Author and spiritual teacher
 *               *               * 
"Narayani's book is a joy to read! Open and accessible, it provides valuable insight into Swami Kriyananda's last years on this earth.  I hope it will help many people to tune into Swami Kriyananda's living presence that can still be felt so immediately through his books, his music, and in the smiles of all his spiritual children."
—Nayaswami Nirmala, Spiritual Codirector, Ananda Sacramento
 *               *               *   
"Brought tears to my eyes many times. This is a story both personal and universal—a rare glimpse into the life and dedication of a saint. Deeply moving."
—Nayaswami Dharmadas, Spiritual Codirector, Ananda Sacramento
 *               *               * 
"This book carries an energy which is sacred, strong, deep, from another sphere. Swami Kriyananda's energy and consciousness pass and work through this book with a transforming power. An active darshan!"
—Cecilia Sharma, Ananda India Healing Sangha founder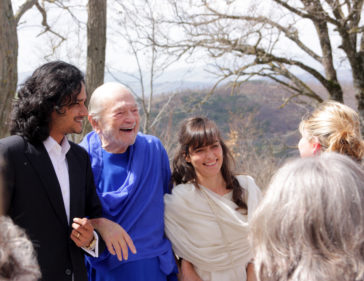 *               *               * 
"Narayani gives a very inspiring and unique perspective of Swami Kriyananda. Because of her service to him, she tuned in to him in a way that leaves one with a much deeper understanding of who Swami Kriyananda was and is—which was much more than what he did in his life. Seeing Swamiji through her eyes will help you better understand his spiritual greatness, whether you knew him or not. Narayani's own struggles—and growth—are also very interesting and enlightening. It was quite hard to put the book down once I began!"
—Nayaswami Devarshi, Director, Ananda Kriya Sangha
*               *               * 
"In My Heart Remembers Swami Kriyananda, Narayani Anaya straightforwardly shares how she found her spiritual polestar when she met Swami Kriyananda. It chronicles her struggle to overcome obstacles and captures with sweet simplicity an intimate picture of Kriyananda during his last three years on earth. Deceptively simple and brief, Anaya's narrative will linger in your heart and mind long after you turn the last page."
—Helen Purcell, Director, Living Wisdom School Palo Alto