The Path of Kriya Yoga Course—Level I
Learning to meditate is the most valuable gift you can give to yourself. Meditating will help you become inwardly peaceful and content, and able to reduce tension and stress at will. The meditation practices Ananda offers are based on the teachings of Paramhansa Yogananda, (author of  Autobiography of A Yogi), as taught to us by his disciple, Swami Kriyananda. These teachings are nonsectarian and offer practical solutions to the challenges of modern life.
In Meditation Level I, you'll learn the Hong Sau meditation technique. It's a simple technique with three phases: relaxation, concentration, and Self-expansion. Most students, with regular practice, see positive changes in both their inner and outer lives within a short period of time.
In Level I you will also learn how to increase your physical and mental energy at will through our introduction of the principles and practice of Paramhansa Yoganandaji's Energisation Exercises. These exercises enable you to tap into, then eventually control and direct, the limitless, universal source of cosmic energy. This energy can be used for the improvement of your health, relationships, work, meditation practice…virtually all areas of your life. Other practices taught in Level I include pranayama, devotional chanting, and affirmations.
Upon completion of Meditation Level I you will have the tools to continue meditation as a life long practice, and to bring your newly found peace of mind into all your daily activities. You'd also then be eligible to continue with Meditation Level II, should you desire to dive more deeply into Yoganandaji's teachings, and/or proceed toward Kriya Yoga Initiation.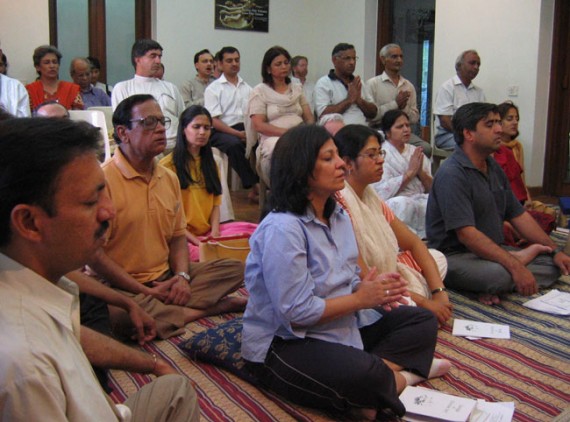 Class students engaged in their meditation practice
Upcoming Course Sessions
Please check the dates and times when Level I is offered in these different locations:
Delhi; Gurgaon; Noida; Bangalore; Hyderabad; Kolkata; Lucknow; Mumbai; Pune
If there is no meditation group or centre near you, please call (see bottom of page) or e-mail us to find out how you can study these techniques at home.
Testimonials
I think that now, after this programme, I've really found a new way to live life. —A. G.
What did I enjoy about this programme? The cheerful faces! —P. C.
I feel more energised and positive and blessed by all the gurus! —P. C.
My experience was simply out of this world! —A. G.
I feel hopeful. I feel what I am seeking may not be SO beyond my reach. —I. D.
It was an altogether joyful experience. —D. J.
I have been blessed to have this opportunity to look into myself and my mind. —S. S.
It was a very peaceful experience. From constantly rushing around, this pause of 3 days renewed me. —S. S.
Registration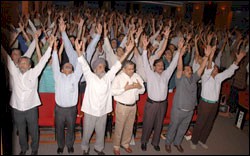 Mumbai: superconscious living exercises
To pre-register, click on the city nearest you and call or email the contact for that center.
Tell your friends and family about the workshops and encourage them to come with you. Everyone is welcome.
If you can help in any way with these weekends—for instance, locating venues, doing publicity and advertisements, ushering—please contact us at ananda@anandaindia.org.
We also invite your financial support for these outreach programmes. Any donation will be acknowledged and greatly appreciated. Donations for this purpose are eligible for exemption of tax under Section 80G. Please make cheques payable to Ananda Sangha Donations, or call for other options to 98992 67698. Ananda Sangha India is sustained by your generosity.