November 23-25, 2018
With Nayaswamis Jyotish and Devi
This two-day programme will be led by Nayaswamis Jyotish and Devi, Spiritual Directors of Ananda Sangha Worldwide. We will enjoy discourses with them, practice silence and introspection, and have meditations and yoga in nature. This will be a perfect opportunity to go deeply into spiritual practices with inspiring company, in a beautiful location. This all-India programme will also be led by the Nayaswamis Jaya and Dhyana, Spiritual Directors of Ananda Sangha India, and leaders of other Ananda centers.

We will be staying at The Dukes Retreat at Khandala Ghat, spread across beautifully landscaped gardens with a valley view of mesmerizing Western Ghats. It is set in the lap of the flora of the region and nestles amidst waterfalls, nature trails and winding forest paths.
How to reach: You would reach The Dukes Retreat on your own, arriving early afternoon of November 23. The closest airports are Pune (78 km) and Mumbai (88km). Travel time is 2 hours from Pune and about 3 hours from Mumbai airports. Many trains are available from Pune and Mumbai C.S.T. Stations. Pre-paid taxis from the airport can be availed. Ola and Uber intercity are also available between Pune-Mumbai.
Programme Fees: Double occupancy: Rs. 15,500 per person (EARLY BIRD: Rs.13,500 )*
Single occupancy: Rs. 27,500 (EARLY BIRD: Rs.25,500 )*
If you wish double occupancy accommodation and you don't know another person, you'll be assigned a roommate of same sex. If a roommate can't be found, you will need to pay single occupancy. If you snore we ask you to room with someone you know well, or pay for single occupancy. The programme fee includes lodging; and all meals. Not included in the fee are – transportation to and from Dukes Retreat, personal hotel expenses and medical care should you need it.
*Discount for bookings before August 31
Payments: Your participation is confirmed only when we approve your application and receive full payment. Payments can be made by online transfer, by cheque or bank draft payable to "Ananda Sangha."
In case of cancellation, Rs. 2,000 is non-refundable. Cancellations close to date of programme may incur additional costs.
About Nayaswamis Jyotish and Devi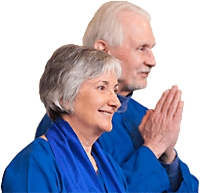 Nayaswamis Jyotish and Devi, Spiritual Directors of Ananda Sangha Worldwide are disciples of Paramhansa Yogananda for almost five decades. They travel and lecture extensively throughout the world on the topics of yoga, meditation, family spirituality and living the spiritual life. They are also authors of several books on meditation, career, marriage and related subjects.
Yoga & Meditation
Also enjoy sessions with Internationally Certified Yoga & Meditation Teachers
Contact & Registration
CONTACT: devendra@anandaindia.org or 85888-34651
VENUE: Dukes Retreat, Pune Mumbai Road, Khandala,410 301 – Ph: 02114 269201
Register Now!