Nayaswamis Jyotish & Devi's Talks are Now Available Online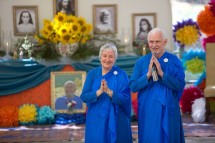 Nayaswamis Jyotish and Devi are back in the US but will return to India later in the year. Stay tuned for details.
VIDEOS NOW AVAILABLE FROM NAYASWAMIS JYOTISH & DEVI'S TALKS AROUND INDIA:
"Spirituality in Daily Life" (Gurgaon)
"The Importance of Raising Your Energy" (Delhi)
"Everlasting Youth" (Mumbai)
"Spiritualising Relationships" (Mumbai)
"Achieving Inner Balance and Outer Harmony" (Pune)
"Doing God's Will" (Pune)
"Paramhansa Yogananda: Incarnation of Divine Love" (Bangalore)
"Personal Growth on the Spiritual Path" (Chennai)
"The Message of Yogananda & the Kriya Yoga Masters" (Chennai)
Photos of Nayaswamis Jyotish and Devi's Visits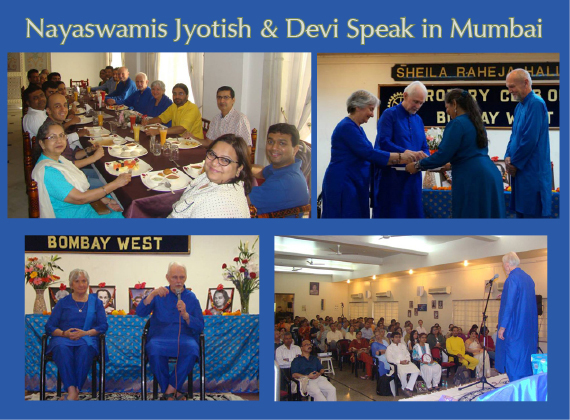 Featured Video: "The Message of Yogananda & the Kriya Yoga Masters" with Nayaswamis Jyotish & Devi (Ananda Chennai)
Online with Ananda India: Free Inspirational Talks and More!
Wednesday Evenings: Living Wisely, Living Well with Nayaswamis Jyotish & Devi, Nayaswami Jaya & Nayaswami Dhyana alternating. Also, daily inspirational classes are offered.
Living Wisely Living Well Schedule:
11 Mar: Nayaswami Dhyana, "Listen"
18 Mar: Nayaswami Jaya, "Accept Criticis"
Also offered: NEW Bhagavad Gita classes with Nayaswamis Jaya & Devarshi, Raja Yoga classes, Guided Daily Sadhanas & more! Visit the online classes website for more details on how to view all the classes.
"In Joy We Live" Blog Post from Nayswami Devi
Read "Our Trip to India"–a letter from Nayaswamis Devi & Jyotish

Dear Friends,
Our time in India is drawing to a close now, and we finally have a moment to share a bit with you. The two main qualities of our travels during this trip are expansion and clarification of Ananda's mission in India.
Starting with our time in Singapore, we saw that dedicated leaders are emerging to serve throughout India and Asia. It's as though Master's children are rushing forward to be part of the great wave of spiritual consciousness that he brought.
Ananda Sangha Delhi
Though we were only in Gurgaon and Delhi briefly, we could see that many new devotees, as well as those who have been with us for many years, are coming to our centers. With the additions of Shurjo and Narayani moving to Delhi to help Keshava and Daya, and Devarshi being based in Gurgaon to head up the India Kriya Sangha, the potential for further growth in the north is great.(read more of this post…)
This Week's "A Touch of Light" Blogpost from Nayaswamis Jyotish and Devi
Nayaswami Devi's article, "Being God's Advisor"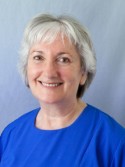 I read a wonderful statement recently by the British author C.S. Lewis: "Many people want to serve God, mostly in an advisory capacity."
At least some of the time, most of us think God needs our advice on rearranging things more to our liking. When everything is going well, we think He's doing a pretty good job of managing the cosmic drama, but when adversity comes, we begin to question His judgment.
Paramhansa Yogananda said that the reason God doesn't appear to most people is that they would only argue with Him! It takes spiritual maturity to surrender our life to a Higher Power and to trust that everything is happening for the best.
In 1976 Ananda Village was devastated by a forest fire, which destroyed much of the community property and burned down most of the houses. Jyotish and I lost our home and everything we owned in the blaze, which struck just eleven days after our son had been born….(read more of this post and sign up to receive these…)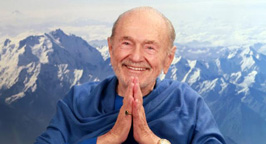 Swami Kriyananda In Memoriam
Watch videos commemorating the passing of Swami Kriyananda on 20 April, 2013.
Watch videos of Swamiji's talks
Website dedicated to Swamiji
SwamiKriyananda.org has many inspiring videos, photos, articles, and more posted in honour of Swamiji.
© 2003-2015 Ananda Sangha India
Humor arises out of a sudden release of tension with the introduction of some unexpected incongruity.
This release, if followed by an upward relaxation into the higher Self*, may give a fleeting glimpse of soul-joy.
Let this year's "April Fool's Day," then, bring you upward release into the happiness of your inner being, and not draw you down into whirlpools of mockery and cynicism.
*For students of yoga, an imbalance and confusion between the ida and pingala nerve channels.
From Living Wisely, Living Well By Swami Kriyananda