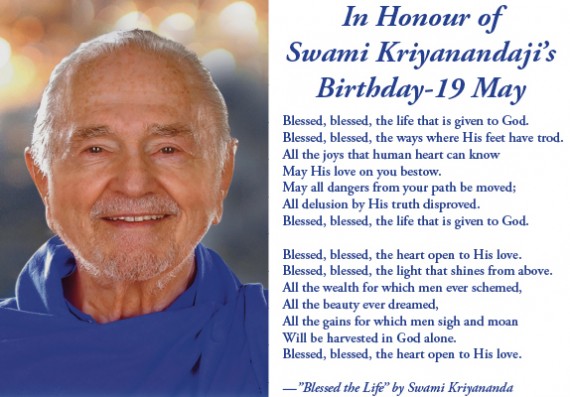 A Tribute to the Life & Legacy of Swami Kriyananda
This weekend marks the momentous occasion of the grand opening ceremony of the Moksha Mandir dedication at Ananda Village in America. Devotees from all over the world–India, Europe, North & South America and more– are attending the ceremony.
Read about the wonderful details and see the great photos of the events that just took place on the anniversary of Swami Kriyananda's moksha anniversary as well as this coming weekend's ceremony blessing the Moksha Mandir. (Read more….) Stay tuned for videos of speakers from the ceremony.
Moksha Mandir Dedication Weekend & Swami Kriyanandaji's Birthday Special Online Satsangs with Nayaswamis Jaya & Dhyana
Join us for two satsangs with Nayaswamis Jaya & Dhyana
TODAY! Sunday 17 May, 10:00am: Moksha Mandir Weekend Satsang (register to view)
Tuesday 19 May, 7:30pm: Swami Kriyanandaji's Birthday Satsang (register to view)
Birthday Blessings to Swami Kriyananda

(19 May)

with Nayaswamis Jyotish and Devi

Swami Kriyananda – A Life in God
Paramhansa Yogananda on Modi's International Day of Yoga Website
June 21 of this year will be the first International Day of Yoga. Ananda Sangha will be celebrating this day throughout India!
View the website and see Paramhansa Yoganandaji on the home page! Stay tuned for more details of Ananda's International Yoga Day Events.
Nayaswamis Jyotish & Devi's Talks are Online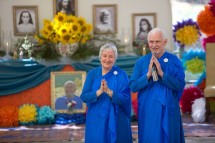 Nayaswamis Jyotish and Devi are back in the US but will return to India later in the year. Stay tuned for details.
VIDEOS AVAILABLE FROM NAYASWAMIS JYOTISH & DEVI'S TALKS AROUND INDIA:
Nayaswamis Jyotish and Devi gave talks in Gurgaon, Delhi, Mumbai, Pune, Bangalore & Chennai. View the complete set of videos from their talks. We look forward to their visit later in the year. To keep up to date on things, view their website. You can even ask a question!
Online with Ananda India: Free Inspirational Talks and More!
Wednesday Evenings: Living Wisely, Living Well with Nayaswamis Jyotish & Devi, Nayaswami Jaya & Nayaswami Dhyana alternating. Also, daily inspirational classes are offered.
Living Wisely Living Well Schedule:
22 Apr: Nayaswamis Jyotish and Devi, "Personal Magnetism"
29 Apr: Nayaswami Dhyana, "Supportive Friendship"
Also offered: Bhagavad Gita classes with Nayaswamis Jaya & Devarshi, Raja Yoga classes, Guided Daily Sadhanas & more! Visit the online classes website for more details on how to view all the classes.
"In Joy We Live" Blog Post from Nayswami Dhyana
Read two inspiring stories: "Choir Sings for Swamiji at Guru Kripa" and "A Lesson from Swamiji in Non-Attachment" by Nayaswami Dhyana


Swamiji was unwell and we had just given a concert of his music at our ashram in Gurgaon that he was to attend. Because Swamiji was so unwell and couldn't come, the choir went to his home, Guru Kripa to give a mini concert personally for him. Swamiji was carried down to the second floor landing of the stairs of Guru Kripa where he sat as we sang many of his beautiful songs.  By the end of the concert Swamiji was weeping and so was everyone else.  It was a very moving moment when we were able to sing for Swamiji there especially because he was so unwell. We had all felt the presence of God and the blessings of Swamiji's music. It was as if Divine Mother was in the room blessing all of us and Swamiji through the music.(read more of this post…)
This Week's "A Touch of Light" Blogpost from Nayaswamis Jyotish and Devi
Nayaswami Devi's article, "Doing the Work"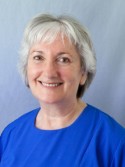 "Kriya Yoga saved me, just not in the way I thought it would." These intriguing words are from a letter we recently received from a friend. With her permission, we're sharing her experiences with you, because her insights are potentially life changing and something from which everyone can benefit.
How to achieve final liberation with kriya yoga techniques of Paramhansa Yogananda, author of "Autobiography of a Yogi"The first thing our friend ever heard about meditation practices was someone saying: "Kriya will free you from every issue in your life." Having experienced a great deal of suffering since childhood, she took these words to heart and began her spiritual journey following Yoganandaji's path and Ananda.
But after some years of practicing Kriya, she found herself still struggling…"(read more of this post and sign up to receive these…)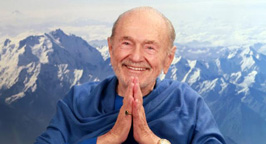 Swami Kriyananda In Memoriam
Watch videos commemorating the passing of Swami Kriyananda on 20 April, 2013.
Watch videos of Swamiji's talks
Website dedicated to Swamiji
SwamiKriyananda.org has many inspiring videos, photos, articles, and more posted in honour of Swamiji.
© 2003-2015 Ananda Sangha India
If someone criticizes you, answer him, "I appreciate your advice, and will think about it."
Thus, you will not necessarily be saying that you agree with him, but you will show yourself open to improvement. Never let anyone put you on the defensive.
From Living Wisely, Living Well By Swami Kriyananda