First Spiritual Renewal Weekend In India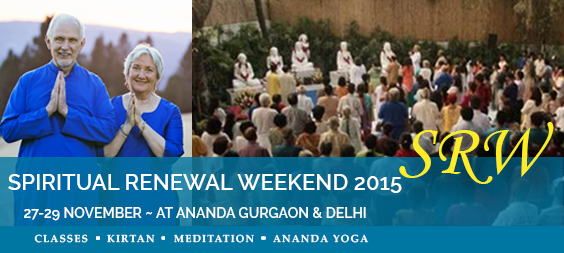 What is Ananda ?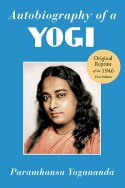 Ananda is a global movement founded in 1968 by Swami Kriyananda. Ananda is based on the teachings of Paramhansa Yogananda, author of Autobiography of a Yogi, who showed how all can realize God in their daily lives as a tangible, loving reality.
Ananda has retreats, meditation groups, centers, and spiritual communities around the world. We also have online classes in meditation and other spiritual subjects, as well as books, videos, and many other resources for your inspiration. Read More
Nayaswamis Jyotish & Devi India Tour 2015
Spiritual Directors of Ananda Worldwide – Nayaswamis Jyotish and Devi in India !
View Their Complete Schedule

Spiritual Renewal Weekend With Nayaswamis Jyotish and Devi. Learn more…
Thanksgiving is a wonderful time to practice gratitude to God. Take the time to thank God for everything: review your life with gratitude for absolutely everything that has happened and been given to you. Also, be thankful for that which has been taken away from you, as an expression of Divine Love meant to free you from ego consciousness. —Nayaswami Jyotish
Recent Blog Posts
Ananda Yoga Changed Me
By Rajesh
"There is a right time for everything"- this saying definitely holds true for me. I had been trying to enroll myself in a yoga class since more than ten years. I had called Ananda Sangha Gurgaon couple of times as well, but for reasons was not able to attend. Read More
Letters From Jyotish And Devi
By Nayaswamis Jyotish & Devi
It's with joy and gratitude to God that we share with you the events that occurred during the past two weeks here in India. It began with the first of two consecutive weekend pilgrimages to Babaji's Cave on Drongiri Mountain. Read More
Simple Living
By Nayaswami Jyotish

As Devi and I took our morning walk through the countryside near our rural Pune Ashram, we were met with a scene that has changed little in the last thousand years. Crops have just been harvested, and the farmers are plowing their small fields with wooden plows pulled by bullocks. 
Read More
Healing Prayer Requests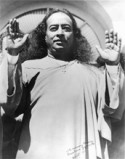 Our Healing Prayer Circle prays for those in need of healing of body, mind, and soul. 
If you, or someone you care for, is experiencing a health challenge or difficult life situation, we can pray for them at a distance. You may submit prayer requests for physical, mental, or spiritual well-being. Email your request to: healing@anandaindia.org
© 2003-2015 Ananda Sangha India
Free Live Webinars – Weekly Schedule
Affirmations for Self Healing
Monday – 7:30-8:30 PM
Living Wisely, Living Well
Wednesday – 7:30-8:15 PM
Living Wisely, Living Well is one of our most popular webinar, where our senior acharyas share simple and practical ways that can transform ones life.

Guided Meditation
Thursday – 7-7:45 AM


Ananda Yoga
Friday – 6:30-7:30 AM
Experience higher states of awareness with Ananda Yoga.
Bhagavad Gita Study
Friday – 7:30-8:30 PM


Understand the deep allegorical meaning of India's best loved scripture.
For details on our weekly classes & to register click here.

Nayaswamis Jyotish and Devi
Spiritual Directors of Ananda Sangha Worldwide

Watch Nayaswamis Jyotish & Devi's inspirational talks on our Ananda India & Ananda India Online YouTube Channels.
How To Be Happy All The Time
Nayaswamis Jyotish & Devi on the Speaking Tree
Follow Nayaswamis Jyotish and Devi's articles and blog posts on "Speaking Tree.in".

Meet Ananda India's Co-Spiritual Directors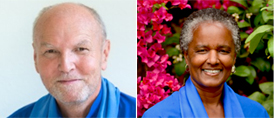 Nayaswami Jaya
In recreation, seek to re-create yourself.
During every pause in your activity, seek in inner peace a renewal of your creative spirit. Withdraw into your inner temple of silence, and, there, focus on re-energizing every thought, every feeling.
From Living Wisely, Living Well By Swami Kriyananda